FBI Deputy Director Andrew McCabe 'Ought To Be Replaced,' Says Top Senate Republican Chuck Glassley
Senate Judiciary Committee chairman Chuck Grassley is calling on FBI Deputy Director Andrew McCabe to be replaced.  McCabe testified in front of the House Intelligence Committee Tuesday after Senate Judiciary Committee chairman Chuck Grassley demanded his resignation. 
"He oughta be replaced. And I've said that before and I've said it to people who can do it," Senate Judiciary Chairman Chuck Grassley, a Republican from Iowa, told reporters the day before McCabe went before the House panel.
But Grassley said of McCabe that "Trump ought to stay out of it. I think it's a Christopher Wray job".  McCabe has come under heavy fire from Republicans over his roles in the Clinton email and Russia collusion investigations.  Grassley's committee is also investigating these issues.
The president has also complained in July on Twitter that his Attorney General Jeff Sessions should have fired McCabe a long time ago.
Grassley has pressed the FBI over McCabe's involvement in the Clinton email investigation. McCabe recused himself from that investigation in Oct. 2016 after it was reported that his wife received hundreds of thousands (estimated $700,00 or 40% of the campaign's total funds) in campaign contributions for a Virginia state senate bid from Virginia Gov. Terry McAuliffe, a staunch ally of the Clinton's.
The Judicial Watch released Justice Department records showing that FBI Deputy Director Andrew McCabe did not recuse himself from the investigation into former Secretary of State Hillary Clinton's unsecured, non-government email server until Tuesday, November 1, 2016, one week prior to the presidential election. The Clinton email probe was code-named "Midyear Exam."
"Andrew McCabe cuts across every facet of every investigation in 2016…from Secretary [Hillary] Clinton's emails to the investigation into the Trump campaign," Rep. Trey Gowdy, a member of the Senate Judiciary committee stated.
McCabe's closed-door interview with House Intelligence had been arranged after months of efforts by committee Republicans angered over what they said was an inability to get more cooperation from the FBI in turning over material about the investigation. House Intelligence Chairman Devin Nunes of California has suggested preparing contempt of Congress action against the FBI and the Justice Department.
Senator Grassley and other Republicans have said they have a few things to question McCabe on.
1. What he [McCabe] knows about how the FBI used a now-famous dossier about Trump with unverified accusations of collusion.
2.  What he [McCabe] knows about a particular text message from Peter Strzok in August 2016 — during the presidential campaign — talking about a need for some "insurance policy" in the case of a Trump victory.
3.  What he [McCabe] knows about demoted Justice Department official Bruce Ohr and his wife Nellie Ohr, who was reportedly contracted to help prepare opposition research on Trump.
Last Wednesday, Fox News reporter Bret Baier tweeted the following:
While Strzok and Page's text message exchange is explosive on its own, the idea that McCabe may have been involved in this conservation is nothing short of stunning. Do you think the Deputy FBI Director would allow two employees in his office unsupervised?  Unlikely.
Mr. Gowdy, (R-SC), recently told Fox News, "I'll be a little bit surprised if [McCabe's] still an employee of the FBI this time next week".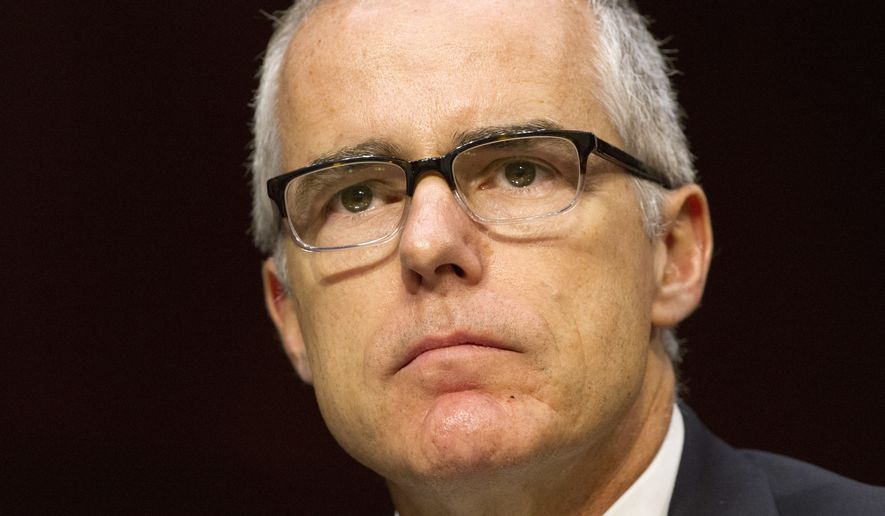 Andrew Ames, FBI spokesman, declined to comment.
GatewayPundit     DailyCaller    WashingtonTimes   Bloomberg   JudicialWatch  WashingtonExaminer  
Related ADN Articles:
Will McCabe Retire and Strzok Resign?
Hillary Emails, the McCabe's and Who is Peter Strzok?