Analysis into the chronology and timing of the past year events, and how they point to the dramatic shutdown of a global criminal syndicate going back several decades.
By:Joe Masepoes @JosephMasepoes
As a starting premise, accept that the END GOAL is to get to the final conclusion; which is all of the prominent members of the Bush/Clinton/Obama cabal imprisoned for their crimes against humanity.
There is one major barrier: public perception and understanding. Going straight the end goal immediately would not have been politically viable with a deceived population who had to be persuaded that what was good is bad, and what was bad is good. There needed to be an order of events playing out over a period of time to draw the public closer to being able to accept the end goal and the shocking reality they now find themselves in. Remember I said the good guys knew everything as soon as they took the center of power, D.C. They knew of the Obama admin scheme to block Trump using his fake ties to Russia but yet allowed this farce "investigation" to silently continue over the period of a year. While people waited for Trump and his family to be indicted, a counter-intelligence operation had been raging. Courts were being stacked with with uncorrupted judges while all the evidence was being collated and prepared. I'll skip over all of the stuff that came out on its own, such DNC rigging, Clinton emails, Comey exoneration, Lynch tarmac meeting, Podesta emails etc, all of that were uncontrolled disclosures but helpful nonetheless for the Great Awakening. Time for America to move forward and start to heal. The Story of How America Was Almost Destroyed By Criminals.
[1]
So let's talk about the order of events deliberately timed to draw the public towards the ultimate reality that Obama and Co are going to face military tribunal as enemies of the state. The fall of Hollywood elites starting with Weinstein was the first to get set into motion because it was the softest target, relatively insulated from D.C, even though massive Clinton donations expose these obvious connections.
Harvey Weinstein's Fall Opens the Floodgates in Hollywood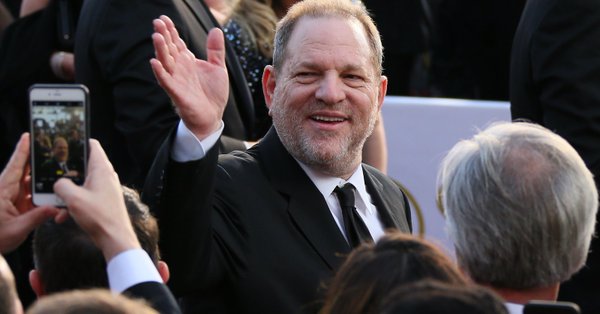 Harvey Weinstein is certainly not the first powerful man publicly and credibly accused of sexually harassing or abusing women in recent years. Since 2015, the Fox News chairman Roger Ailes, the Fox News prime-time host Bill O'Reilly and the comedian and actor Bill Cosby have suffered professional, financial or reputational setbacks after numerous women told stories of their sexual misconduct. Those stories dominated news cycles, to be sure, but the outcry accompanying Mr. Weinstein's downfall seems louder and more impassioned — perhaps because Mr. Weinstein's accusers include stars like Ashley Judd, Angelina Jolie and Gwyneth Paltrow. "I think this is a watershed moment," said the producer Gail Berman, who had top jobs at Paramount Pictures and the Fox network. [2]
***
We also saw a lot of other peripheral criminal enterprises shut down, that is the MS-13 gang round-up, and also the drug and child trafficking cartels dispatched.
MS

-13 crackdown nets hundreds of arrests by feds

More than 250 alleged MS-13 gang members and associates were arrested after an investigation that lasted more than a year across two countries, authorities
announced Wednesday. "Today I am pleased to announce the arrest of 267 MS-13 gang members and associates in conjunction of ICE's most recent targeted anti-gang effort known as 'Operation Raging Bull,'" said Acting ICE Director Thomas Homan. "Operation Raging Bull" moved in two phases. The first netted 53 alleged gang members and associates in El Salvador after an 18-month investigation. They will mostly face charges in the Central American nation. [3]
***
But the first major political maneuver was the Saudi purge. This is a global operation, not just US. The bribery to the corrupt US
politicians and Clinton Foundation needed to be cut.
Once all of the corrupt princes, including the worst of them, Al-Waleed bin Talal, were arrested, we could turn our attention to the US.
***
Why Saudi Prince bin Talal's 'friends' have abandoned him
One of the world's richest men and most sought-after investors has been under arrest and even reportedly tortured for more than three weeks. That man is billionaire Saudi Prince Alwaleed bin Talal. He owns major stakes in Twitter and Citigroup. He was a key shareholder in 21st Century FOX. His television interviews, including on CNBC, are promoted with "must-watch" status. He's routinely called the "Warren Buffett of Saudi Arabia." Where are Prince bin Talal's powerful business partners and political contacts who have been seen with him at DAVOS or dozens of other major world events? This was the man who stuck his neck out for years in support of the Murdoch family. And that includes the period in 2011 when calls to oust Rupert Murdoch and his sons were running high after the British News of the World phone tapping scandal. There has been no real protest on his behalf from the Murdochs or in their newspapers and TV networks. Others, like Bill Gates who called him an "important partner," have made lukewarm statements this past week. But none have met the level of urgency appropriate for a man detained with no documented charges and possibly under physical harm. [4]
***
A side event was the fall of tyrant Robert Mugabe, a cabal puppet who destroyed the economy of Zimbabwe and enslaved his people. South Africa leader Jacob Zuma has also been removed. He and Mugabe make up the African arm of the cartel.
Zimbabwe ruling party seals Mugabe's fall from grace
Breaking into cheers and song, Zimbabwe's ruling party on Friday sealed the fate of Robert Mugabe, a man they had revered for decades but removed from power in dramatic scenes last month.
The ZANU-PF party congress officially endorsed its Central Committee's decision to replace Mugabe with Emmerson Mnangagwa as its leader, and it endorsed Mnangagwa as its candidate for the 2018 elections. Mnangagwa was inaugurated as the country's new president last month, with the immediate challenge of reviving a shattered economy and removing himself from his longtime mentor's shadow.
Friday's meeting was the final step in Mugabe's fall from grace after the military put him under house arrest, hundreds of thousands rallied in the streets and lawmakers began impeachment proceedings. Under the growing pressure, the 93-year-old who had vowed to rule for life finally resigned. He had led the party since 1975 and the country since independence from white minority rule in 1980. [5]
***
We then saw the stories seeded into Left-wing media that started with Hill Uranium One disclosures; that there was a suppressed FBI investigation into corruption surrounding the deal, and $145MM in cash going to Clinton Foundation.
FBI informant gathered years of evidence on Russian push for US nuclear fuel deals, including Uranium One, memos show
An FBI informant gathered extensive evidence during his six years undercover about a Russian plot to corner the American uranium market, ranging from corruption inside a U.S. nuclear transport company to Obama administration approvals that let Moscow buy and sell more atomic fuels, according to more than 5,000 pages of documents from the counterintelligence investigation. The memos, reviewed by The Hill, conflict with statements made by Justice Department officials in recent days that informant William Campbell's prior work won't shed much light on the U.S. government's controversial decision in 2010 to approve Russia's purchase of the Uranium One mining company and its substantial U.S. assets. Campbell documented for his FBI handlers the first illegal activity by Russians nuclear industry officials in fall 2009, nearly an entire year before the Russian state-owned Rosatom nuclear firm won Obama administration approval for the Uranium One deal, the memos show. [6]
***
After that, the first news of Peter Strzok's bias, his role in the pissgate dossier and basically the whole Mueller investigation compromised to plant the seeds of doubt in Trump's guilt, and vindication of his wiretap tweets. These bad actors in Mueller's Special Council were known from the beginning, the public were led to believe a valid Trump/Russia investigation was taking place when the real investigation was into the Obama/Clintons. Then it was getting bad actors out of the House Intelligence committee by setting up the media leak stings, exposing recently Adam Schiff as being the guy who leaked the retracted CNN story with a tiny date discrepancy.
 Trump's Assistant Dan Scavino Goes After 'Leaker Adam Schiff'
Everyone is calling out ranking member of the House Intelligence Committee Adam Schiff (D-CA) as one of the leakers. Adam Schiff was seen leaving the room many times during Donald Trump Jr.'s 8 hour closed door testimony to the House Intelligence Committee and mysteriously CNN began publishing tidbits of information from the hearing. Dan Scavino is President Trump's assistant and director of social media. He took a swipe at "Leaker Adam Schiff" Tuesday night in a viral tweet. Dan Scavino called out Adam Schiff as a leaker Tuesday night in a response to a tweet sent by former White House Press Secretary Ari Fleischer. Fleischer tweeted, "Just a reminder that CNN, CBS and MSNBC have yet to explain how numerous "independent" sources all misread the date on an email in calls to each of those three outlets. No explanation. None." [7]
***
Tax reform is critically important to get through. The best way to convince anyone in the public that their government might not be so bad is to feel a financial benefit.
President Trump: Tax bill 'an incredible Christmas gift for hard-working Americans'
President Donald Trump on Wednesday hailed congressional Republicans' ambitious $1.5 trillion rewrite of the tax code as a win for middle-class Americans. He took a victory lap alongside Republican lawmakers at the White House after the GOP's passage of the massive overhaul set to reshape the nation's tax code. The White House said he hopes to sign the bill in the coming days after it is officially enrolled. "It seems like it was a lot of fun," Trump said of the legislative process behind the tax bill. "It's always fun when you win. If you work hard and lose, that's not acceptable." [8]
***
With everyone about to notice a cash benefit from the new tax bill, either in the size of their refund, or in a cash bonus by exuberant corporations (as we see with AT&T and others), they will be psychologically warmer to the government they once feared would hurt them. With the major legislation achievement, and Clinton appearing cooked, lets turn to Obama. The bombshell disclosures in Left leaning Politico showing how Obama helped Hezbollah smuggle in drugs and other atrocities.
The secret backstory of how Obama let Hezbollah off the hook
How Hezbollah turned to trafficking cocaine and laundering money through used cars to finance its expansion.
As Project Cassandra reached higher into the hierarchy of the conspiracy, Obama administration officials threw an increasingly insurmountable series of roadblocks in its way, according to interviews with dozens of participants who in many cases spoke for the first time about events shrouded in secrecy, and a review of government documents and court records. When Project Cassandra leaders sought approval for some significant investigations, prosecutions, arrests and financial sanctions, officials at the Justice and Treasury departments delayed, hindered or rejected their requests.
The Justice Department declined requests by Project Cassandra and other authorities to file criminal charges against major players such as Hezbollah's high-profile envoy to Iran, a Lebanese bank that allegedly laundered billions in alleged drug profits, and a central player in a U.S.-based cell of the Iranian paramilitary Quds force. And the State Department rejected requests to lure high-value targets to countries where they could be arrested.
December 15, 2011
Hezbollah is linked to a $483,142,568 laundering scheme
The money, allegedly laundered through the Lebanese Canadian Bank and two exchange houses, involved approximately 30 U.S. car buyers. [9]
***
Don't get complacent to this revelation. Its stating in plain terms that Obama was a US president who actively undermined the interests of Americans, putting them in harms way to help a hostile foreign enemy that funds ISIS. Sessions, who has been actively presiding over the whole counter-intelligence sting, was keeping a low profile to keep the public focused on the Trump/Russia distraction. Now all is done and he came out today finally demanding an investigation into the Uranium One deal. It looks like he is just doing this now, but it has really been ongoing since he stepped foot into the Justice department.
Prosecutors ask
FBI

agents for info on Uranium One deal
On the orders of Attorney General Jeff Sessions, Justice Department prosecutors have begun asking FBI agents to explain the evidence they found in a now dormant criminal investigation into a controversial uranium deal that critics have linked to Bill and Hillary Clinton, multiple law enforcement officials told NBC News. The interviews with FBI agents are part of the Justice Department's effort to fulfill a promise an assistant attorney general made to Congress last month to examine whether a special counsel was warranted to look into what has become known as the Uranium One deal, a senior Justice Department official said. At issue is a 2010 transaction in which the Obama Administration allowed the sale of U.S. uranium mining facilities to Russia's state atomic energy company. Hillary Clinton was secretary of state at the time, and the State Department was one of nine agencies that agreed to approve the deal after finding no threat to U.S. national security. [10]
***
As momentum accelerates, today's disclosure of sanctions against global corrupt actors as part of the Magnitsky act, all pieces in the greatest, most sinister and most prolific global criminal cartel the world has ever seen.
Trump sanctions Myanmar general, others for global corruption and human rights violations
President Trump announced sanctions Thursday against 13 individuals for humans-rights violations and corruption, including a Myanmar general accused of ethnic cleansing against Muslim minorities. Mr. Trump signed an executive order announcing the new sanctions, which also target 39 entities and individuals under the Global Magnitsky Act. The president declared a national emergency on global corruption and human rights abuses. Gen. Maung Maung Soe is accused of directing military operations against the Rohingya in Myanmar, a systematic campaign that Secretary of State Rex W. Tillerson has called an example of ethnic cleansing.
"The department is committed to protecting and promoting human rights and combatting corruption with all of the tools at our disposal," Mr. Tillerson said of the new sanctions. "Today's actions advance our values and promote the security of the United States, our allies, and our partners." The sanctions are the first to be issued since the Obama administration expanded the Magnitsky Act in 2016. The action will freeze the assets of the targeted people and restrict their access to the global financial system. [11]
***
You are going to hear the EU go next, with another similar corruption purge in 2018 of European officials who have been engineering a massive migrant crisis via their major source of funding, George Soros.
Nigel Farage calls on EU to investigate George Soros funding, collusion
Nigel Farage says while Russia is accused of funding Britain's 'Leave' campaign, financier George Soros' recent $18 billion donation to pro-EU charity Open Society has escaped scrutiny. "This is where the real international political collusion is," Farage says.Speaking to the European Parliament in Strasbourg on Tuesday, Farage told fellow MEPs he believes that when it comes to international collusion, "we are looking in the wrong place." He says Soros' influence in Brussels is "truly extraordinary," adding: "I fear we could be looking at the biggest level of international, political collusion in history."
Farage, the leader of the Europe of Freedom and Direct Democracy Group, believes Soros has spent billions in the EU to undermine the nation state. "When we are talking about offshore money, when we are talking about political subversion, when we are talking about collusion, I wonder if we are looking in the wrong place.
"And I say that because George Soros recently gave Open Society, which of course campaigns for freedom of movement of people and supranational structures like the European Union, $18 billion. And his influence here and in Brussels is truly extraordinary."
***
The crescendo of events can now get going with full force now that all of the other pieces are in play. No more long delays now, this should all wrap up pretty swiftly over the coming weeks.
Buckle up and enjoy the show. Oh yes, happy Christmas, happy new year, and happy NEW WORLD!
 
The end
[1] Youtube
[2] NYTimes
[3] NBC
[4] CNBC
[5] Washington Post
[6] The Hill
[7] Gateway Pundit
[8] ABC
[9] Politico
[10] NBC News
[11] Washington Times
[12] Russian Times