EXCLUSIVE
TRU

th

MA

chine
for
A

merican

D

igital

N

ews
"FOLLOW THE MONEY" SERIES…
and what a journey it is.   Loops, turnarounds, cul-de-sacs, expressways, dirt tracks, and detours….
This ongoing series will include (to name a few) the following sections:
(1) U.S. contributions to the U.N. / International Aid
(2) Paris Agreement COP 21
(3) Department of State, Hillary Clinton term – $6 Billion missing
(4) Pentagon (Department of Defense) — $29-33 Trillion reported unaccounted for
(5) Puerto Rico 2017 Hurricane Aid
(6) American Red Cross
(7) $768 Million U.S. Humanitarian Aid to Al Qaeda's Arabian Peninsula Headquarters
(8) Illegal Immigrants Costs
(9) Obama's Iran Deal – $400 Million Cash night flight flown to Iran plus $1.3 Billion transferred later for total of $1.7 Billion paid (for questioned ransom allegations)
(10) Sanctuary Cities and States
(11) Congress "SHUSH-FUND" for sexual harassment cases against members of Congress
(12) United Arab Emirates (UAE) Gulftainer 35-year cargo container terminal lease at PORT CANAVERAL (and other U.S. ports)
(13) Uranium One – Rosatom – ATOMREDMETZOLOTO, Nuclear Regulatory Commission, State Department, and Obama Administration
(14) Environmental Protection Agency (EPA) Clean Water Act v citizen's stock pond/fire prevention reservoir pond
(15) Environmental Protection Act (EPA) negligence and accidental hazardous Waste Water Spill affecting 4 states, 2 rivers, and a creek
(16) Bureau of Land Management (BLM) land tyranny.
Some of these "Follow the Money" topics could easily fill a small library.   We assure all of you, that you will experience: bewilderment, disgust, and anger while reading this collection of information. You will undoubtedly have many questions. Therefore, for those interested in learning more, a few search links are provided herewith.
****************
(5) Puerto Rico 2017 Hurricane Aid
a)  Sept 17, 2017 – Who will help Puerto Rico?
Puerto Rico is battling a massive economic and humanitarian crisis in the aftermath of Hurricane Maria.
It's not clear yet how much it will cost to rebuild. One conservative estimate puts total damage at $30 billion — nearly a third the size of the island's entire economy.
Those storms will cost an estimated $150 billion and have already prompted billions in federal aid, insurance payouts and private donations.
The Federal Emergency Management Agency received about half of the $15 billion.
FEMA funds go directly to the areas hit by a disaster. For example, local governments that spend money giving their citizens food, water and shelter can be fully reimbursed for those costs in the first month after a disaster is declared.
The U.S. Chamber of Commerce this week released an initial tally of donations related to Maria relief that totaled $8.1 million.
b)  Sept 23, 2017 – $1B OK'd for Puerto Rico hurricane aid, but governor says he'll seek more
The island's infrastructure was in sorry shape long before Maria struck. A $73 billion debt crisis has left agencies like the state power company broke. As a result the power company abandoned most basic maintenance in recent years, leaving the island subject to regular blackouts.
A federal control board overseeing Puerto Rico's finances authorized up to $1 billion in local funds to be used for hurricane response, but Gov. Ricardo Rossello said he would ask for more.
"We're going to request waivers and other mechanisms so Puerto Rico can respond to this crisis," he said.
The island's electric grid was in sorry shape long before Maria struck. The territory's $73 billion debt crisis has left agencies like the state power company broke. It abandoned most basic maintenance in recent years, leaving the island subject to regular blackouts.
c)  Oct 4, 2017 – Trump tours Puerto Rico, touts aid flow
The Comfort, a hospital ship of the Military Sealift Command, arrives Tuesday at San Juan, Puerto Rico to provide needed medical services for victims of Hurricane Maria
d)  Oct 10, 2017 – Why the Cost of Puerto Rico Relief Efforts Could Suddenly Rise
Republican Sen. John McCain is ramping up efforts to pass a bill that would permanently exempt Puerto Rico from the Jones Act, a federal law that prohibits foreign-flagged ships from shuttling goods between U.S. ports.
The 10-day Jones Act waiver that Trump put in place to help the hurricane-devastated area expired on Sunday night. It has not been renewed.
e)  Oct 11, 2017 – Puerto Rico Relief Bill Cancels $16 Billion in Debt — But Not for Puerto Rico
House Republicans unveiled a $36.5 billion disaster relief supplemental package Tuesday night, intended to pay for relief and rebuilding efforts for the floods, hurricanes, and wildfires of the past several months. It includes money for Puerto Rico's ongoing struggle with the aftermath of Hurricane Maria, though only a fraction of that headline number. In fact, $5 billion of the funds earmarked for Puerto Rico comes in the form of a loan, increasing the amount of money the island will eventually need to pay back.
And in a cruel irony, the bill also contains $16 billion in debt relief — just not for Puerto Rico's crushing debt.
Puerto Rico will get a loan of $4.9 billion out of that same pot, money to be used for maintaining basic government operations.
This is critical for Puerto Rico, which has had trouble borrowing from private credit markets because of its existing $74 billion debt. But instead of replenishing the coffers with a grant, this is a loan — one Puerto Rico will also need to repay.
The island will get an additional $150 million loan to cover its matching funds for FEMA grants. Cities and states are required to put a small amount of money into sharing costs for disaster relief. That brings the total of loans to the island up to $5.05 billion. The appropriations committee allotted another $29 million for administrative expenses for the loan.
There is one definitive grant to Puerto Rico in the bill: $1.27 billion for "disaster nutrition assistance," which is basically an extension of the food stamp program for citizens affected by the hurricane. This type of assistance is standard for disaster areas in the continental United States but needs to be enumerated for the territory.
f)  Oct 24, 2017 – Senate Passes Hurricane Relief Bill Granting Puerto Rico Loans
The Senate sent President Donald Trump a $36.5 billion hurricane relief bill Tuesday that gives Puerto Rico access to $4.9 billion in low-interest Treasury loans, amid concerns that recovery efforts from the recent disasters will require significantly more funding.
The measure, H.R. 2266, calls for $18.7 billion for the Federal Emergency Management Agency, including $4.9 billion for low-interest loans to Puerto Rico and the U.S. Virgin Islands. Puerto Rico is seeking the loans to avert an Oct. 31 government shutdown due to a dwindling cash balance.
The U.S. territory of 3.4 million people has been operating in bankruptcy since May, which makes it difficult — if not impossible — for the government to borrow on its own. The devastation wrought by Hurricane Maria is threatening to exaggerate the financial crisis that had already pushed the island into a series of record-setting defaults on its $74 billion of debt.
g)  Nov 19, 2017 – PR Medicaid Crisis Another Year-End Funding Issue for Congress
The White House's $44 billion supplemental disaster relief request Friday does not address the Puerto Rico Medicaid crisis. Earlier this month Puerto Rico Gov. Ricardo Rossello, of the New Progressive Party, had requested $1.6 billion for at least the next five years.
The House passed a bill earlier this month to expand the Children's Health Insurance Program by $1 billion for each of the next two years to aid Puerto Rico's Medicaid shortfalls, a move supported by Gov. Rosello because he feared Congress would be more focused on its mainland through year's end.
h) Dec 2017 – Puerto Rico Pays Gov't Employees $100 Million in Bonuses After Asking for $94 Billion in Federal Disaster Relief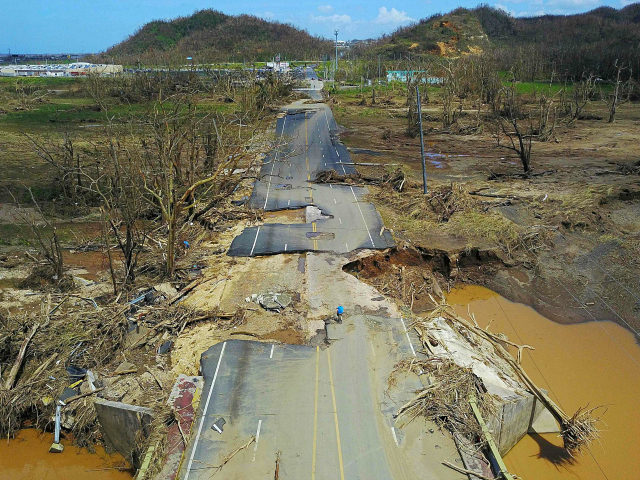 Puerto Rico Governor Ricardo Rossello Nevares asked federal taxpayers to pay $94 billion towards the island's recovery from Hurricane Maria, then reportedly spent $100 million on Christmas bonuses for the territory's government employees.
The governor's aides argue that the bonuses had been part of the budget approved last summer and that they are a longstanding tradition allowed under the law, the Washington Times reports.
h1)   
"Puerto Rico has demonstrated time and time again that its government is incapable of responsibly handling its finances. This is yet another such instance," Rep. Tom McClintock (R-CA), a member of the House committee with oversight over Puerto Rico, told the Washington Times in a statement after the bonuses had been revealed.
i)  FEMA Hurricane Maria UPDATE
Nearly 15,000 federal civilian personnel and military service members, including more than 3,039 FEMA personnel, are on the ground in Puerto Rico and the U.S. Virgin Islands engaged in response and recovery operations from Hurricanes Maria and Irma.
Recovery continues in #PuertoRico with more than 15,000 federal & military personnel supporting #Maria survivors. https://t.co/5gr4FQbuu8 pic.twitter.com/fZWf1mYCnR
— FEMA (@fema) October 31, 2017
Army National Guard bridges the gap in Puerto Rico: https://t.co/EikLneVmoP pic.twitter.com/fTPL2EvT8r
— National Guard (@USNationalGuard) October 30, 2017
To provide additional surge capacity if needed, the Department of Defense hospital ship USNS Comfort arrived in Puerto Rico on October 3, and has treated 4,762 patients since.
The ship offers a broad range of medical care with surgical, obstetric and pediatric capability and is equivalent to a level-two trauma center in the United States. The ship is staffed by more than 500 medical personnel and support staff and holds 250 hospital beds.
FEMA, working in coordination with federal partners, has provided more than 50.23 million meals and 58.44 million liters of water to Puerto Rico and U.S. Virgin Islands. Additional meals and water continue to arrive to the islands regularly via air and sea.
As of October 25, the Governor of Puerto Rico has 9 Regional Staging Areas around the island, serving all 78 municipalities. The National Guard is delivering supplies to the regional staging areas around the island.
Displaced Survivors Transitional Sheltering Assistance (TSA) is currently available to eligible survivors who are currently in the Continental United States. Qualified disaster survivors may be eligible to stay in an approved hotel or motel for a limited period of time.
We will provide rental assistance directly to disaster survivors, who are then responsible for finding available rental resources of their choosing. The amount of monthly rental assistance available to survivors who evacuated to the Continental United States depends upon the county or parish where the survivor has relocated following Hurricane Maria. That is why it is so important to keep your contact information updated with FEMA.
The Department of Natural and Environmental Resources and the U.S. Coast Guard in conjunction with the Puerto Rico Environmental Quality Control Board, the Environmental Protection Agency, and the U.S. Fish & Wildlife Service stood up the ESF 10 command post in Puerto Rico, with the mission of overseeing the assessment, mitigation and removal of hazardous substances and vessels from Puerto Rico's ports and waterways in the aftermath of Hurricane Maria.  To date the unified effort has identified 344 vessels in need of assistance, placed assistance stickers on 221 vessels, closed 119 cases, made contact with 114 owners and responded to 31 reports of vessel pollution.
Sources Series 5:
CNNMoney  FoxNews   ArkansasOnline   Fortune   TheIntercept   Bloomberg   NewsMax   Breitbart   WashingtonTimes   FEMA.gov
ADN Related Links:
Main Post – $21 Trillion Missing – Undocumentable Adjustments: DoD and HUD
Section 1 – U.S. contributions to the U.N. / International Aid
Section 2 – Paris Agreement COP 21 / Green Climate Fund
Series 3 – Secr of State HRC missing $6Billion
Section 4 – Pentagon (Dept of Defense) $29-33 Trillion reported unaccounted for
Section 5 – Puerto Rico 2017 Hurricane Aid