DOJ White Hats vs Black Hats Power Struggle
I highly suspect the biggest revelation of the DOJ IG's report when it drops on Jan. 15th is going to be pulling back the curtain on the power struggle between the White Hats and the Black Hats inside the DOJ.
Unroll Thread Link          Strike Jeff Twitter
Not only did a clique of black hats doing political fixing for Democrats like Hillary Clinton & her aides turn it attention to trying to manufacture scandals for the incoming Trump White House, there's a new White Hat faction that's been investigating them since last January.
The 
#BlackHatClique
 inside the DOJ not only cooked up the use of the dossier to manufacture a Trump/Russia collusion scandal/investigation, it's looking increasingly like they attempted to frame Trump's incoming NSA, Gen. Michael Flynn.
Almost immediately after Flynn made his plea deal, the long dormant, mostly unknown DOJ IG investigation suddenly surfaced like a massive submarine breaking the ocean plane bow first, with names like "Strzok", "Page" "Ohr" "McCabe" suddenly filling the news.
We've had 2 weeks of Congressional hearings sparked just by a small preview of sample of some of the evidence DOJ IG Michael Horowitz uncovered in his 11 month investigation into political fixing/abuses inside the DOJ.
Human nature being what it is, strict controls to prevent political abuse of gov't powers is a vital necessity of our American form of government.
Obama for his own partisan political purposes encouraged the stripping away of those controls & elevated people who'd abuse offices
The media will try to initially downplay Horowitz's report, but I believe the biggest story of 2018 is going to be the revelation that the DOJ was profoundly politicized and weaponized on Obama's watch, and a serious effort is underway to undo the damage caused.
Here's 1 of the biggest signs of the conflict between the White Hat and the Black Hat factions inside the DOJ. It first reared it's head last January.
The investigation into then-Trump National Security Advisor, Gen. Michael Flynn's phone calls with Sergey Kislyak.
Flynn made these phone calls to then-Russian Ambassador to the US Sergey Kislyak on DECEMBER 29TH, 2016, to discuss the news sanctions Obama had just imposed on Russia the day before, on the 28th.
Surprisingly, or perhaps not surprisingly at all, the Obama Administration gave the incoming Trump transition team preparing to assume power absolutely no heads up at all these harsh new sanctions were coming.
By expelling 35 Russian officials from the US, and hitting Russia with these sanctions, Obama & Co. handed the Trump transition team it's first crisis.
It's known by NOW, of course, that Flynn calling up Kislyak to discuss these new sanctions on unsecured phones was done with the knowledge & approval of the Obama administration.
BUT somebody in the Black Hat clique inside the DOJ saw an OPPORTUNITY here to try to politicize Flynn's calls with Kislyak into an 'insurance policy' to use against the incoming Trump White House.
This 
#BlackHatClique
 had used the Steele Dossier to get FISA surveillance of several ofTrump's campaign team members over the previous 5-6 months and had come up with NOTHING so far that they could use to stop/cripple Trump's incoming administration.
Putting their heads together, it seems the 
#BlackHatClique
 came up with a plan to take these phone calls betwixt Flynn/Kislyak & trick them out as if Flynn was committing a HUGE CRIME and leak this to the media.
So on January 12th, columnist David Ignatius at the Washington Post rolls out this accusation in a column: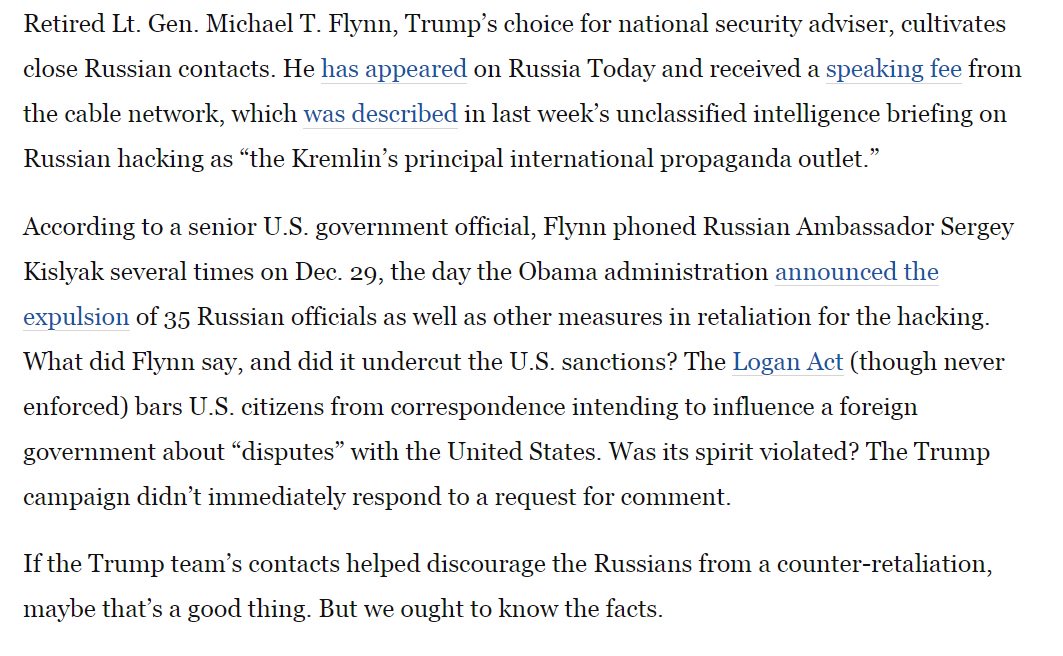 What Ignatius is doing there is he is launching a narrative that it must be some HUGE SECRET what Flynn & Kislyak talked about in these phone calls they had on Dec. 29th.
Once the narrative was launched, DNC Media quickly spread it like wildfire: "What is Trump's shady incoming NSA advisor who is still a private citizen doing calling up the Russians and trying to do some SECRET DEAL with them nobody would know about hmmmmmm?!"
In fact, as everybody now knows, this was no 'secret phone call'. There were no 'secret negotiations' going on here. Everybody in DC knows phone calls to top Russian officials on unsecure phones are monitored, often recored, often transcribed & appear in intel reports.
As a 33 year veteran of military intelligence, Gen. Michael Flynn knows as well as anybody else in the Intelligence Community that no phone call to a top Russian official in the US is a 'private' phone call.
So the narrative Ignatius launched in the Washington Post on January 12th was always comically absurd. Flynn is very well aware other people are listening in to this phone call an intelligence reports will be made on the contents of it.
In fact, it's crystal clear this "US government official" who told Ignatius about Flynn's phone calls with Kislyak on Dec. 29th knew about them from READING THE INTELLIGENCE REPORT that was created about these same phone calls.
Here's the SECOND thing about this narrative that Ignatius launched that demonstrates it's false: if this US gov't official saw the intelligence report about the phone calls, then that official KNEW EXACTLY WHAT FLYNN & KISLYAK SAID TO EACH OTHER.
We're expected to believe, if this narrative is true, that this anonymous gov't official who read the intel report on the phone calls tells Ignatius about them WITHOUT telling Ignatius what Flynn & Kislyak actually said to each other.
Now here's the good part about this false narrative: Intelligence reports like the 1 detailing this conversation between Flynn & Kislyak about these sanctions, are CLASSIFIED INFORMATION.
Leaking them is a crime. It's a FELONY.
And this anonymous US gov't official who is committing a felony by telling Ignatius about these phone calls is really selective in what he/she says. Ignatius us told about the bare fact these phone calls were made, the subject of the calls, but NOT the content of the calls.
THIS IS IMPORTANT. Ignatius can't be told what Flynn actually said in detail to Kislyak because then there'd be no room for the "OMG FLYNN WAS TRYING TO DO A SECRET DEAL WITH THA RUSSIANS!" narrative for the media to launch.
This is a direct clue that Ignatius is being used by the 
#BlackHatClique
 in the DOJ to manufacture a narrative that can be used against the incoming Trump administration.
So note well: somebody was willing to commit a felony to tell this WaPo columnist stuff from a classified intel report, that phone calls were made on a subject without providing any DETAIL about how that subject was discussed.
So now we can look back and see what the 
#BlackHatClique
 inside the DOJ was doing, using their media allies to help launch a narrative they could use to frame Flynn & create a fake scandal for the incoming Trump presidency.
Well guess what? After Trump took the oath of office on January 20th, the 
#WhiteHats
suddenly showed up.
Watching DNC Media running with this "OMIGERD FLYNN'S BEEN CAUGHT TRYING TO DO A SECRET RUSSIAN DEAL!" narrative from Jan. 12th – Jan. 20th, they acted quickly.
Most people don't remember this in all the hysteria, but the FBI looked at the SAME INTEL reports the leaker to the Washington Post did, and on the basis of the CONTENT of the phone calls, cleared Flynn of any wrong doing on Jan. 23rd.
After a week of media hysteria whipping up a false narrative that Gen. Flynn had been caught doing A Very Bad Thing, media was BRIEFLY forced to admit there was nothing wrong or illicit whatsoever about these phone calls.
That was on January 23rd. A group within the FBI investigated the content of the phone calls, ascertained Flynn had permission for them, and that nothing untoward was discussed.
Then January 24th dawned.
And the #BlackHats showed up again.
The VERY NEXT DAY after the 
#WhiteHats
 inside the FBI had cleared him of any wrongdoing whatsoever, who should show up unannounced to suddenly grill Flynn about those phone calls but….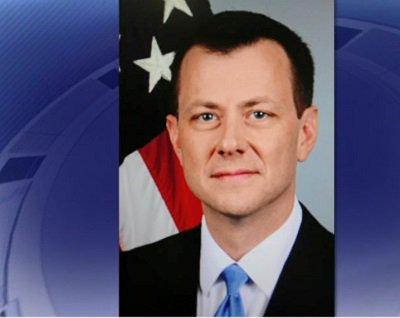 Now, put yourself in 
@GenFlynn
's shoes here for a minute. You've already been cleared by the FBI of doing anything wrong in those phone calls after the DNC MEDIA spent TWELVE FULL DAYS ginning up hysteria based on a CRIMINAL LEAK of an intelligence report.
All of a sudden, another FBI agent shows up to interview you AGAIN about these phone calls.
And during the course of this interview, it becomes clear to you this agent is asking questions with an AGENDA in mind.
The questions this FBI agent Strzok is asking you are premised on the FALSE NARRATIVE THE MEDIA HAS BEEN DRIVING FOR 12 DAYS NOW.
His questions are premised on the idea you thought you were doing a secret negotiation and you've been caught committing A CRIME.
HOW would YOU respond to that? Would you answer all of this guy's questions truthfully once you realized something was very, very wrong with the questions he was demanding that you answer?
Might you not, let's say, begin to hedge or even be evasive or outright untruthful in your answers if he's demanding to know if it was PRESIDENT-ELECT TRUMP who put you up to trying to do that SECRET ILLEGAL NEGOTIATION WITH THE RUSSIANS ON THOSE SANCTIONS? 🤔
My theory is that during the course of this interview with FBI agent 
#BlackHat
 Peter Strzok, this 33 year veteran spook smelled a rat.
After having just been cleared of any wrongdoing by the FBI, all of a sudden Flynn is face to face with ANOTHER FBI agent who seems to represent a DIFFERENT FACTION within the agency & the DOJ who seems DETERMINED to find a crime here somewhere.
And the purpose of the crime this Strzok wants to find is to 'prove' a Trump/Russia collusion narrative. And they want to use FLYNN to do this.
And I believe Flynn would immediately resolve "No way. You are not using ME to get to my President by faking this scandal."
So yes, Flynn STOPPED being truthful in his answers to this FBI agent once he realized the agenda that was in play.
He would do NOTHING to let this false scandal touch either the President or the Vice President.
 So yes, like a true patriot, Lt. General Michael Flynn SACRIFICED himself and let himself be fired and then prosecuted for perjury to a FBI agent to protect his President from a fake scandal cooked up political partisans inside the DOJ/FBI.
But as subsequent events have demonstrated, General Flynn is going to be completely vindicated in the end. The people who tried to frame him & manufacture a fake Trump/Russia collusion scandal around him are going to be completely exposed & held accountable.
See, the 
#BlackHatClique
 inside the DOJ/FBI didn't realize this until it was too late, but the 
#WhiteHats
 were quietly at work identifying them, cataloging the evidence of their political fixing/abuses & getting ready to EXPOSE them.
How quietly were the 
#WhiteHats
 at work? Nobody even noticed this when DOJ IG Michael Horowitz made this announcement last January 12th, the very same day the 
#BlackHatClique
 launched it's fake narrative in the Washington Post: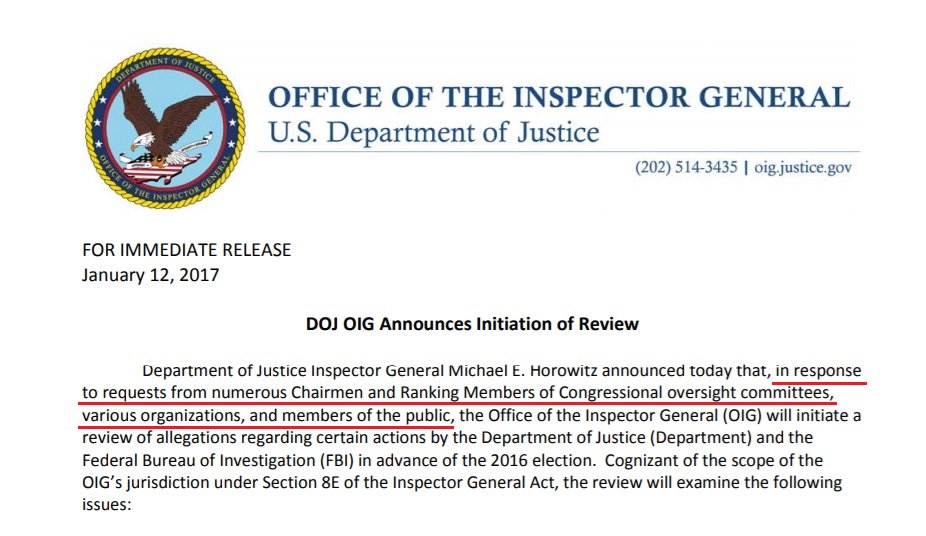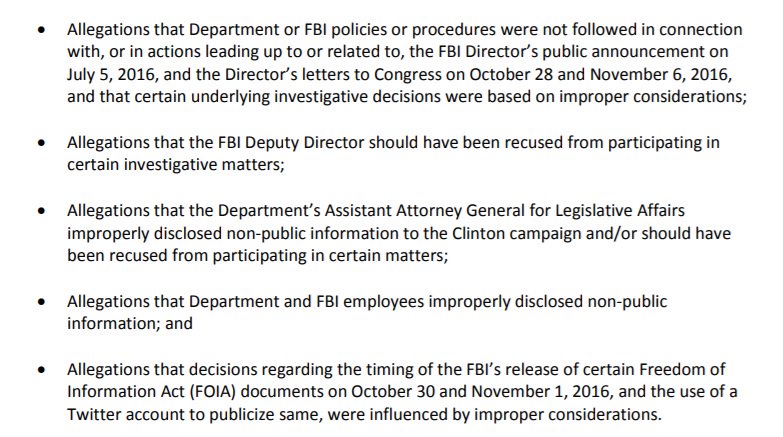 Is it a coincidence that immediately after Flynn pleaded guilty to what he & the White Hats knew was a politically fixed perjury charge, Congress got shown just a small sample of some of the evidence Horowitz found in his 11 month long investigation?
Methinks not. 🤔
We've since spent 3 weeks watching revelations about the 
#BlackHatClique
 inside the DOJ/FBI. All of a sudden Peter Strzok, Andrew McCabe, Bruce & Nellie Ohr, Bill Priestap and others are dragged into the daylight just from a tiny PREVIEW of Horowitz's evidence.
Almost immediately after Flynn made his plea deal, the judge who was going to sentence him suddenly revealed a conflict of interest and recused himself.