Who is Valerie Jarrett and Why You Should Care
This thread will take us beyond Chicago, beyond the White House, to the Middle East and back with corrupt operatives and foreign billionaires.
Valerie Bowman Jarrett, born in Iran to two American parents. Lived in Iran until she was five, then London, then Chicago when she was almost seven.
She went to the U of Chicago Lab School before transferring to her mother's alma mater, Northfield Mt. Hermon, for the last two years of HS. Valerie received her B.A. from Stanford University in '78, and her J.D. from the University of Michigan Law School in '81. After graduating from the University of Michigan Law School, she went to work for Chicago's first black mayor, Harold Washington. His election had many 60's radicals attributed to it. After Washington's death in 1987, she stayed on under his successor, Richard Daley.
She and her pal Susan Sher recruited Michelle Robinson, then engaged to Barack Obama, and quickly melded her into their lives.
Before Obama's Administration, Jarrett served as a Director of corporate/not for profit boards, including Chairman of the University of Chicago Med Center Board of Trustees. She was Director of the Local Initiative Support Corporation, The Joyce Foundation, and a Trustee of the Museum of Science and Industry. A former Deputy Corporate Counsel for Finance/Development under Harold Washington, Jarrett also continued to work in the mayor's office into the 90's. In 1991, while Deputy Cheif of Staff for Mayor Richard Daley, Jarrett hired Michelle Robinson, then engaged to Barack Obama and she was assigned to finance department.
Valerie Jarrett ran the finances for Barack Obama's 2004 Senate bid and served as treasurer of Obama's HOPEFUND. Marilyn Katz worked with Students for a Democratic Society. She is a personal friend of Jarrett's. Remember her for later. Valerie Jarrett was also the daughter-in-law of another powerful Chicago politician and socialite, Vernon Jarrett, a full-blown communist.
03/18/1955 — Valerie Jarrett's father & other relatives were also investigated by the FBI for their ties to espionage. [1]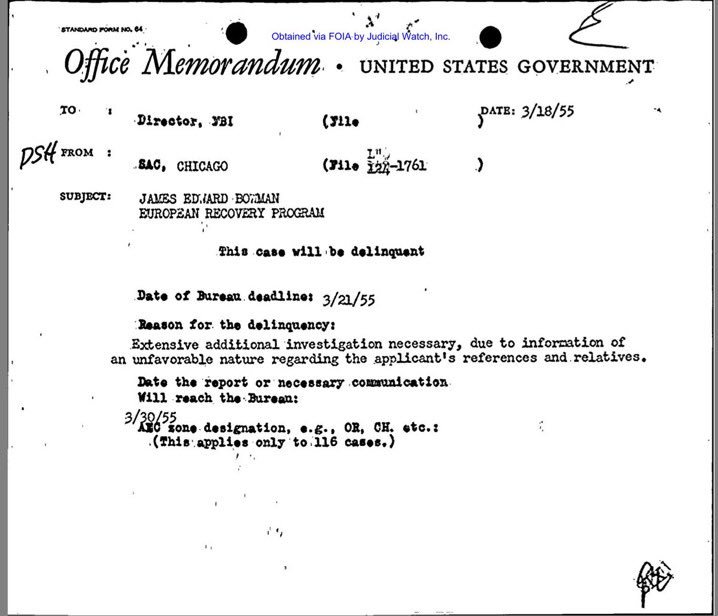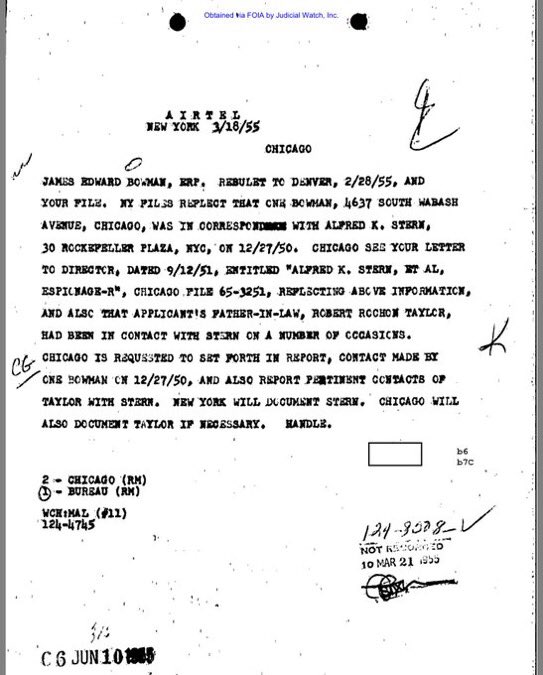 Her father
Her grandfather
Her father-in-law
ALL COMMUNISTS
And she's living with who?
Another communist, named Barry.
I won't go into too much detail on her father right now, but his Communist associations are well documented and easy to find.
Valerie Jarrett became the President and CEO of The Habitat Company on 01/31/07 and served as Executive Vice President of Habitat for 12 years. Prior, she served for eight years in Chicago government as Deputy Corporation Counsel for Finance/Development, Deputy Chief of Staff for Mayor Daley. She was also Commissioner of the Dept of Planning and Development and also practiced law with two private law firms. From 1995 – 2003, Jarrett served as Chairman of the Chicago Transit Board. Jarrett also served as Chairman of the Board of the Chicago Stock Exchange from April 2004 – April 2007 and was a Director of the Federal Reserve Bank of Chicago from January 2006 – April 2007.
SHE
WAS
THEIR
MACHINE
While Jarrett was CEO of The Habitat Co. which managed Grove Parc Plaza from 2001 – 2012 and also co-managed a Chicago subsidized complex that was seized by Feds in 2006, after city inspectors found widespread problems. Feds graded the condition of the complex an 11 on a 100-point scale — a score so bad the buildings faced demolition. Officials at Woodlawn Preservation say the government [Valerie] didn't give them enough money to properly maintain Grove Parc. Jarrett's Habitat Co. declined to comment on Grove Parc in particular but said it is hard to manage something you don't own. She was under consideration to take over Barack Obama's vacated seat, but that got too scandalous for her to be associated with. Jarrett had the whole city of Chicago under her control by the time she was chosen to be in the White House as Obama's closest Cabinet member.
*She's always had to stay above the fray, so it wouldn't jeopardize the agenda. She didn't join the Obama admin, the Obama's joined hers.*
So, she hired Michelle. Then she hired Obama. Both were young lawyers with connections of their own and already associated with radical Community figures. They had the key placements in Sidley Law firm, via Bernadine Dohrn and were upwardly mobile in the Chicago system. Valerie and Sidley. Same Sidley Austin?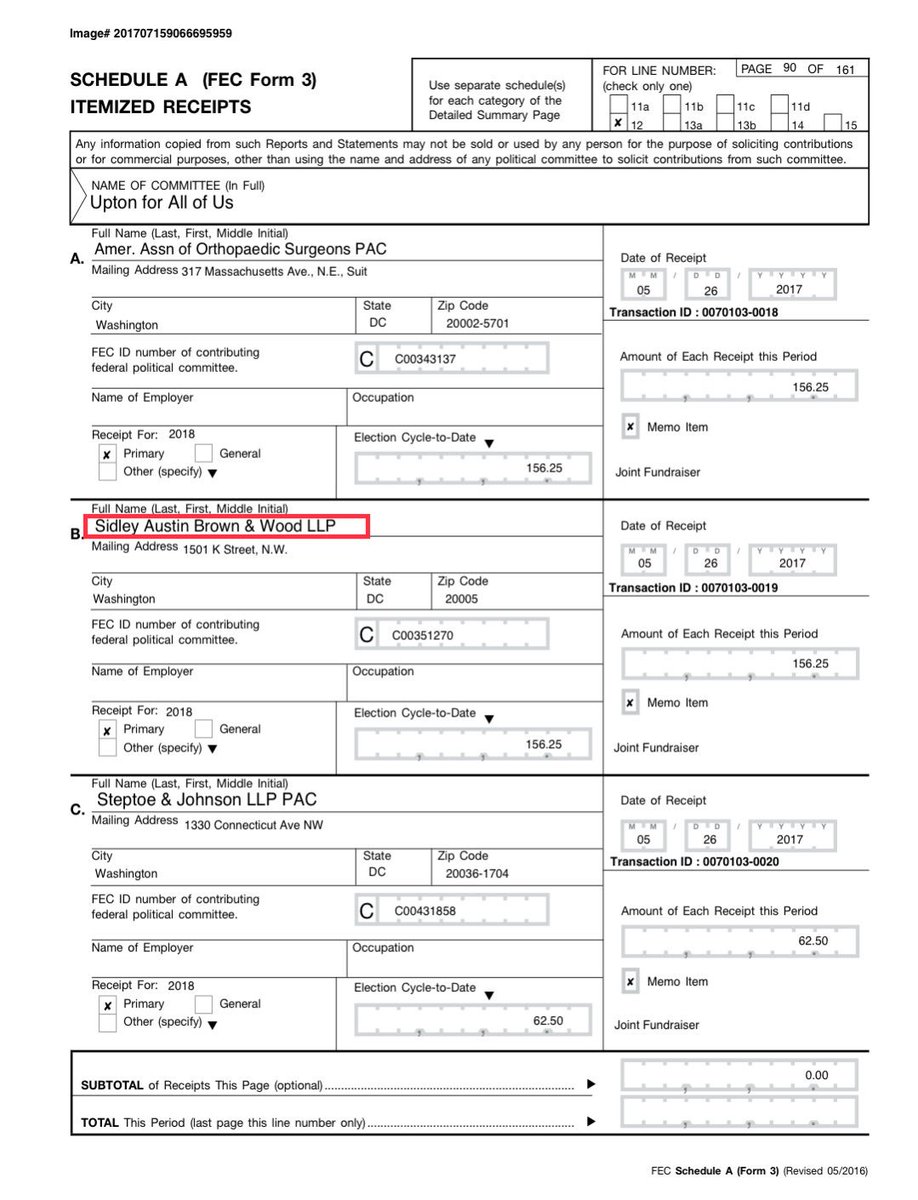 It's the same. Here's latest Sidley Austin 2017 sidekick [Sidley Austin LLP Good Government Fund] filing. Not much in there yet because it's a fresh year. More will be added. [2]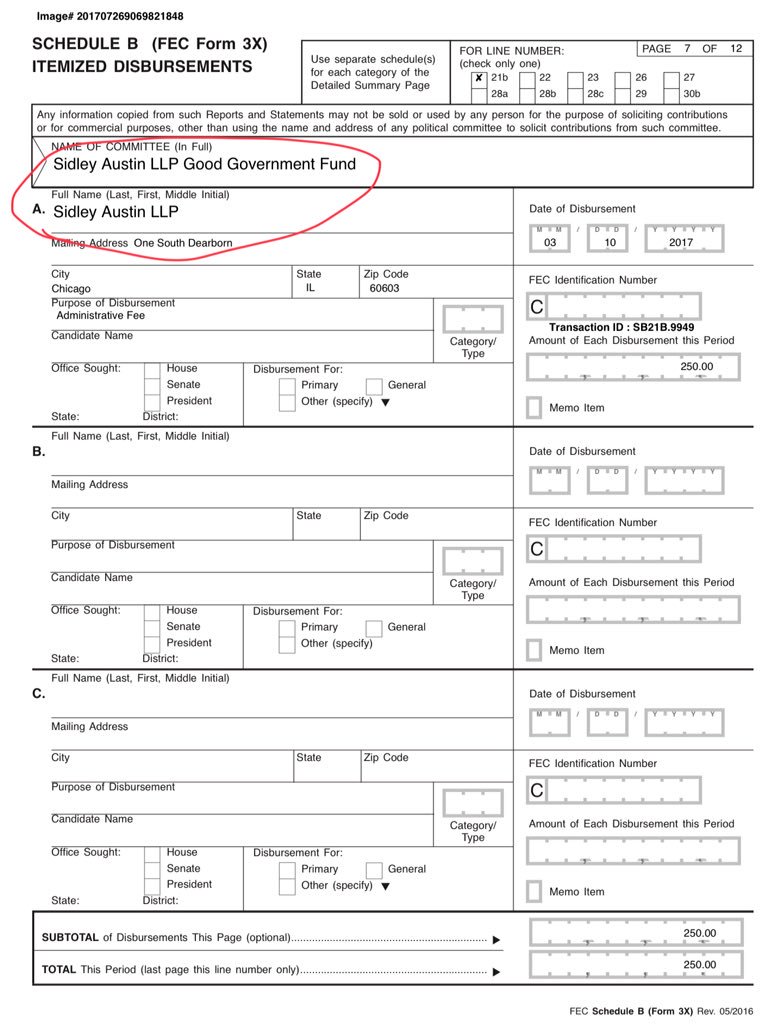 [3]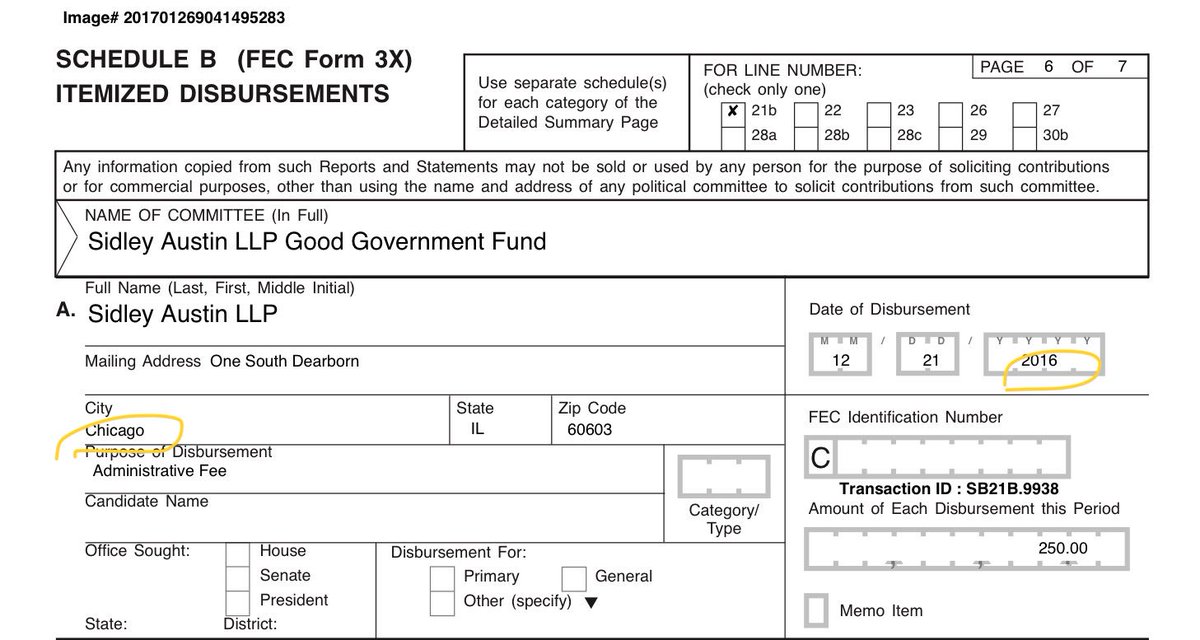 When Jarrett left Daley's office to go to the University of Chicago Medical Center she took Michelle with her. Obama was to continue in the Daley administration. Barack Obama was being groomed by them, while Jarrett was advancing herself and keeping Michelle close. If you look her placements in financial institution boards, her development corporations, you understand how powerful she is. Not a single brick laid, grant awarded, loan approved, subsidy or a permit issued in Chicago, unless Jarret controlled it. She partnered with Chicagoan Allison Davis in her development corporations. Davis was the son of Allison Davis Sr., the late UofC professor. He was the senior partner of Davis, Miner, Barnhill & Galland , (Remember this firm, it will come up later.) Davis was appointed to Illinois State Board of Investment by Governor Blagojevich.
Jarrett and Allison Davis, the team with a monopoly on all Chicago development.
Let's talk about some of the land development schemes that Jarrett and her corporations operated and some of the connected players. Documents link Jarret to a series of real estate scandals, including several housing projects operated by convicted felon-Obama fundraiser/friend Antoin "Tony" Rezko. [4] (Davis is also Obama's former boss.)
Like Obama, Jarrett is a product of the corrupt Chicago political machine. And it is no stretch to say that she was a slumlord —@TomFitton
Tom went on to warn —"We have real concerns about her ethics…We don't need to import more corruption to D.C. from Chicago."
More on Allison Davis: Major fund-raiser for Obama's Senate camp/former lead partner at Obama's former law firm. Davis was also a developer involved in the creation of Grove Parc. Davis used government subsidies to rehab 1500 units including a N Side building cited multiple times for raw sewage spilling into several apartments.
Obama's former law firm boss, Grove Parc Plaza developer. Dabbler in real estate. Davis left his firm to pursue a full-time career as an affordable housing developer paid by subsidies from Daley & aided by Obama himself. Over roughly a decade, Davis' companies received more than $100M in subsidies to renovate 1,500 apartments. —Chicago Sun-Times
Apartments, not buildings.
Davis partnered with Tony Rezko. In '98 they created a limited partnership to build an apartment building for seniors on the South Side of Chicago. Barack Obama wrote letters on state Senate stationery supporting city and state loans for that exact project.
More on Tony Rezko, the most important fund-raiser for Obama's early political campaigns and a friend who helped the Obama's buy a home in 2005. He used his company for subsidies to rehabilitate more than 1,000 apartments, mostly in and around Obama's district. He then refused to manage the units, leaving the buildings to decay to the point where many were no longer habitable.
Cecil Butler: Lawndale Restoration, the largest subsidized complex in Chicago, seized by government in 2006 after more than 1,800 code violations. Lawndale Restoration: 1200 apts/95 buildings Slum Queen Jarrett allegedly put $70M into these buildings; lasted barely 10 yrs before being condemned. It was supposed to be a private/public partnership. In reality it was a machine for corrupt politicians via Rezko money laundering machine. For her outstanding work as a slum organizer in the Habitat Corp she made $300K/yr and another $550K in deferred compensation. She made an additional $350K as a member of a number of Boards spread around Chicago.
Obama was among the many Chicago residents who shared Daley's conviction that private companies would make better landlords than the Chicago Housing Authority. Obama told the Chicago Tribune that he had briefly considered becoming a developer of affordable housing. Just imagine…
But after graduating from Harvard Law School in '91, Obama turned down a job with Tony Rezko's development company, Rezmar. He chose instead to work at the civil rights law firm *Davis, Miner, Barnhill & Galland, then led by *Allison Davis. The firm represented a number of nonprofit companies that were partnering with private developers to build affordable housing with government subsidies.
As senator, in 2001 Obama and a Republican colleague, William Peterson, sponsored a bill that increased state subsidies for private developers. The law let developers designated by the state raise up to $26 million a year by selling tax credits to Illinois residents. It passed. For each $1 in credits purchased, the buyer was allowed to decrease his taxable income by 50 cents.
Obama also cosponsored a bill creating an annual fund to subsidize rents for extremely low-income tenants; passed after he left the Senate.
Jarrett, Davis, and Rezko all served on Obama's campaign finance committee when he won a seat in the Senate. Over 9 yrs, Rezmar used more than $87M in government grants, loans/tax credits to renovate about 1,000 apartments in 30 Chicago buildings. Companies run by the partners also managed many of the buildings, collecting government rent subsidies. Rezmar collected millions in fees. But Rezmar fell behind on mortgage payments almost immediately. On its first project, the city government reduced monthly payments from $3k….to less than $500.
11 of Rezmar's buildings were located in the district represented by Obama, containing 258 apartments. The building without heat in January 1997, the month Obama entered the state Senate, was in his district. So was Jones' building with rats in the walls and Frizzell's building that lacked insulation. And redistricting after the 2000 Census added another 350 Rezmar apartments to the area represented by Obama. But, Barack Obama has contended that he knew nothing about any problems in Rezmar's buildings-to this very day.
FBI Files Show Valerie Jarrett's Hardcore Communist Past [5]
********
The Communist Family Tree of Valerie Jarrett
A disturbing reminder of who our President chose to serve as his co-president — and why.
Barack Obama's closest and most influential adviser, Valerie Jarrett, has never been an enigma. She was, after all, the person most responsible for bringing the revolutionary communist Van Jones into the Administration six years ago, so her bona fides as a radical extremist have long been obvious to anyone who wasn't afraid to notice. But a newly released report from Judicial Watch, which examines key FBI documents related to Jarrett's many family ties to hardcore Communists, brings bold color to what previously were gray areas. The effect is nothing short of breathtaking, when we consider that the twice-elected President of our nation chose this woman—and no one else—to serve, essentially, as his co-president.
Valerie Jarrett's late father—a physician named James Bowman—had a lengthy FBI file showing that he was a Communist who often collaborated with other Communists based principally in Chicago
Valerie Jarrett's mother is the early-childhood-education author Barbara Taylor Bowman (born 1928), who in 1966 co-founded a Chicago-based graduate school in child development known as the Erikson Institute… The Erikson Institute's radical orientation is reflected in the fact that its board of trustees has included such figures as Bernardine Dohrn, wife of the former Weather Underground terrorist and lifelong Marxist Bill Ayers, and Tom Ayers, father of the same lifelong Marxist.
Jarrett's maternal grandfather was a Chicagoan named Robert Taylor, the first African-American head of the Chicago Housing Authority. In the 1940s he was involved with such Communist fronts as the American Peace Mobilization and the Chicago Civil Liberties Committee. A fellow member of these groups was Frank Marshall Davis, the Communist journalist who in the 1970s would mentor a young Barack Obama. An FBI document shows that Taylor, like Valerie Jarrett's father, was believed to have been "in contact" with the aforementioned Soviet agent Alfred Stern "on a number of occasions."
Valerie Jarrett's maternal grandmother, Dorothy Taylor, was an activist with Planned Parenthood in its early years. Planned Parenthood was founded in 1942 by Margaret Sanger, a member of the New York Socialist Party and a eugenicist who favored the use of use birth control to limit the reproduction of society's "least intelligent and fit" members.
In the 1940s Vernon Jarrett had been the first nationally syndicated black columnist for the Communist-influenced Chicago Defender, where he wrote pieces extolling the Communist poet Langston Hughes and lifelong Stalinists like W.E.B. DuBois and Paul Robeson. Also in the '40s, Vernon Jarrett was a leader of the Chicago chapter of American Youth for Democracy—the youth wing of the Communist Party USA. Moreover, he served on a publicity committee for the Packinghouse Workers Union, a Chicago-based entity dominated by the Communist Party. In each of these endeavors, Vernon Jarrett had close contact with the Communist Frank Marshall Davis—who, as noted above, later became Barack Obama's mentor. [6]
*********
1979 article by Vernon Jarrett about Khalid al-Mansour
The Vernon Jarrett syndicated column of Nov. 6, 1979, that appeared in the St. Petersburg Evening Independent. It originally appeared in the Chicago Tribune on Nov. 2. This image was pieced together from screen shots of the St. Petersburg Independent page available for viewing in the Google Newspaper Archive. Jarrett was the father-in-law of Valerie Jarrett, President Obama's closest adviser.
Bombshell Obama Vetting: 1979 Newspaper Article By Valerie Jarrett's Father-In-Law Reveals Start Of Muslim Purchase Of U.S. Presidency…
Why would Muslim oil billionaires finance and develop controlling relationships with black college students? Well, like anyone else, they would do it for self-interest. And what would their self-interest be? We all know the top two answers to that question: 1. a Palestinian state and 2. the advancement of Islam in America. The idea then was to advance blacks who would facilitate these two goals to positions of power in the Federal government, preferably, of course, the  Presidency. And why would the Arabs target blacks in particular for this job? Well, for the same reason the early communists chose them as their vanguard for revolution (which literally means "change") in America. Allow me to quote Trotsky, in 1939: "The American Negroes, for centuries the most oppressed section of American society and the most discriminated against, are potentially the most revolutionary element of the population. They are designated by their historical past to be, under adequate leadership, the very vanguard of the proletarian revolution." Substitute the word "Islam" for the words "the proletarian revolution," and you most clearly get the picture, as Islam is a revolutionary movement just like communism is. (Trivia: it is from this very quote that communist Van Jones takes his name. Van is short for vanguard. He was born "Anthony"). In addition, long before 1979, blacks had become the vanguard of the spread of Islam in America, especially in prisons. Interestingly, in context with the fact that this article was written by her father-in-law, Valerie Jarrett has an unusual amount of influence over Obama (along with personal security that may be even better than his, another unusual and intriguing bit of business here). And equally interesting is that Obama, who may have been a beneficiary of this Muslim money, and may now be in this Muslim debt, has aggressively pursued both of the Muslim agendas I cited above. And, also equally interesting, is that Obama has paid a king's ransom for court ordered seals of any such records of this potential financing of his college education, and perhaps, of other of his expenses. [7]
********
CNN has tapped the daughter of President Obama's closest adviser to cover the Department of Justice, The Post has learned.
Laura Jarrett quietly joined the network in September as a reporter in its Washington bureau.
She came to CNN with no experience in journalism. But the Harvard-educated lawyer defended companies and individuals against the Justice Department as a private litigator in Chicago. [8]
Valerie June Jarrett (née Bowman; born November 14, 1956) is an American lawyer, businesswoman, and civic leader. She served as the Senior Advisor to the President of the United States and Assistant to the President for Public Engagement and Intergovernmental Affairs in the Obama administration from January 20, 2009 to January 20, 2017. Prior to that, she served as a co-chair of the Obama–Biden Transition Project.
Jarrett was born in Shiraz, Iran, to American parents James E. Bowman and Barbara Taylor Bowman. One of her maternal great-grandfathers, Robert Robinson Taylor, was an architect who was the first accredited African American architect, and the first African-American student enrolled at the Massachusetts Institute of Technology.
Chicago municipal politics
Jarrett got her start in Chicago politics in 1987 working for Mayor Harold Washington as Deputy Corporation Counsel for Finance and Development.
Jarrett continued to work in the mayor's office in the 1990s. She was deputy chief of staff for Mayor Richard Daley, during which time (1991) she hired Michelle Robinson, then engaged to Barack Obama, away from a private law firm. Jarrett served as commissioner of the department of planning and development from 1992 through 1995, and she was chairwoman of the Chicago Transit Board from 1995 to 2005.
Business administration
Until joining the Obama administration, Jarrett was the CEO of the Habitat Company, a real estate development and management company, which she joined in 1995. She has been replaced by Mark Segal, a lawyer who joined the company in 2002, as CEO. Daniel E. Levin is the chairman of Habitat, which was formed in 1971. Jarrett was a member of the board of Chicago Stock Exchange (2000–2007, as chairman, 2004–2007).
She was a member of the Board of Trustees of the University of Chicago Medical Center from 1996 to 2009, becoming vice chairwoman in 2002 and chairwoman in 2006. She also served as Vice Chairwoman of the Board of Trustees of the University of Chicago and a Trustee of Chicago's Museum of Science and Industry. Jarrett serves on the board of directors of USG Corporation, a Chicago-based building materials corporation.
Jarrett's previous year's income, in a 2009 report, was a $300,000 salary and $550,000 in deferred compensation from the Habitat Executive Services, Inc. The Wall Street Journal also reported that she disclosed receiving payments of more than $346,000 for service on boards of directors that reflect her political ties, work in Chicago real estate, and Chicago community development. She was paid $76,000 for service as a director of Navigant Consulting, Inc., a Chicago-based global consulting group with governmental clients. She received $146,600 from USG and $58,000 to serve on the board of Rreef American REIT II, a real estate investment trust based in San Francisco. The Chicago Stock Exchange, Inc., paid her $34,444.
Advisor to Barack Obama
Barack Obama and Valerie Jarrett converse in the Blue Room, White House, 2010.
Jarrett was one of President Obama's longest serving advisors and confidantes and was "widely tipped for a high-profile position in an Obama administration."
Jarrett was one of three senior advisors to President Obama. She held the retitled position of assistant to the president for intergovernmental affairs and public engagement, managed the White House Office of Public Engagement, Office of Intergovernmental Affairs, and Office of Urban Affairs.
Relationship with Former President Barack Obama
In 1991, as deputy chief of staff to Mayor Richard Daley, Jarrett interviewed Michelle Robinson for an opening in the mayor's office, after which she immediately offered Robinson the job. Robinson asked for time to think and also asked Jarrett to meet her fiancé, Barack Obama. The three ended up meeting for dinner. After the dinner, Robinson accepted the job with the mayor's office. It was at this time that Jarrett reportedly took the couple under her wing and "introduced them to a wealthier and better-connected Chicago than their own." When Jarrett later left her position at the mayor's office to head Chicago's Department of Planning and Development, Michelle Obama went with her. [9]
[1] Judicial Watch
[2] DocQuery.fec.gov
[3] DocQuery.fec.gov
[4] Judicial Watch
[5] Judicial Watch
[6] FrontPageMag
[8] New York Post
[9] Wikipedia