UPDATE – Assange had an alien passport for last five years. The Ecuadorian Government issued him a passport five years ago when the US was threatening the Embassy. He now has a valid ID and is waiting for naturalization processing. Once that's completed, he'll be an assigned Ecuadorian 'diplomatic attaché' with immunity rights to travel freely and will permit him to be armed and have an Ecuadorian security detail. This doesn't mean he will go to Ecuador. But, wherever he goes, may he be safe.
There is a back room agreement that won't be contested, other than by the usual Elites political protest. In return, WikiLeaks will release evidence on the Clinton Foundation. Thus, the hour glass icon! By the way, Elite Pedophiles have been being rounded up. We may not see unsealed indictments for a while. Many of these perps have dual citizenship, so some may be prosecuted elsewhere.
Back to Julian, he isn't home, nor Ecuador. His passport identified nation isn't proof of where he is. He's safe. That's all anyone needs to know, however, he is not in Switzerland…yet.
Some recent Julian Assange and WikiLeaks history:
12/31/2017 –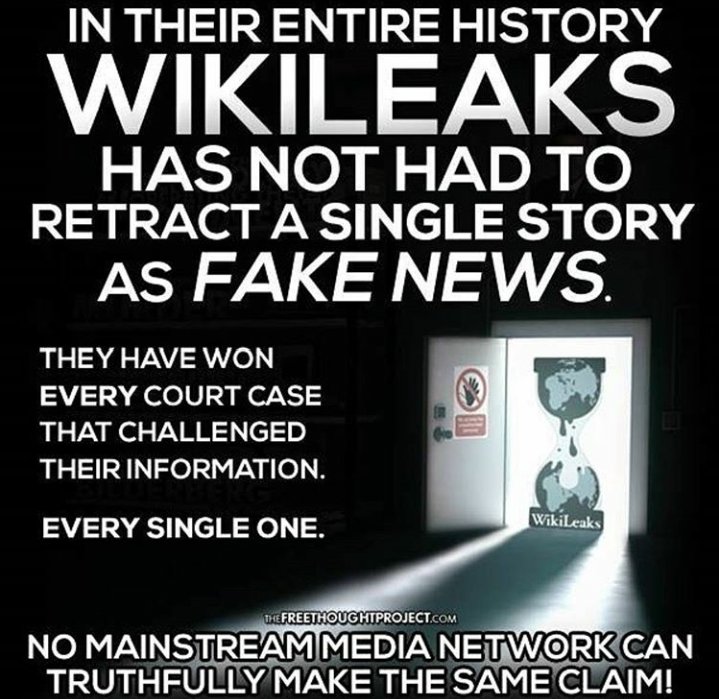 10/17/16 – Wikileaks Activates "Contingency Plans" After Unknown "State Party" Cuts Julian Assange's Internet Connection [1]
10/18/16 – Mystery Deepens Around Fate Of Julian Assange
10/18/16 – Wikileaks Provides An Update On The Assange Internet Outage
10/21/16 – WikiLeaks Tweets "Heavily Armed Police" Outside Ecuadorian Embassy; Says Assange Is Still Alive
Assange's Twitter Account Mysteriously Deleted, Reappears Hours Later Under Strange Circumstances
***
Wikileaks releases 'Deep State Files' #DeepStateFiles
Early Christmas morning, Julian Assange announced the release of 700 Terabytes in what's being called the 'Deep State Files'. Exclusive early analysis granted to Chronicle.su by Wikileaks reveals the Deep State Files are the entirety of the CIA's most classified and restricted database, detailing everything from extensive work in manipulating and controlling Russian elections to Bill Clinton providing nuclear assistance to Kim Jong Il in 2009.
Wikileaks founder and spokesperson Julian Assange told followers this knowledge would "change the world," and may be the "biggest story in history." His Twitter account was banned, and following this an alternate account was suspended. [5]
***
U.S. Navy Deletes Bizarre Tweet About Julian Assange After Account Disappears
The U.S. Navy apologized Monday for tweeting about Julian Assange after the WikiLeaks founder's account disappeared from Twitter on Christmas Eve. "This morning, an inadvertent keystroke by an authorized user of the U.S. Navy Office of Information's Digitial Media Engagement Team caused the trending term "Julian
Assange" to be tweeted from the Navy's official Twitter account. The inadvertent tweet was briefly posted for a few second before it was quickly deleted by the same authorized user. The inadvertent tweet was sent during routine monitoring of trending topics," tweeted the U.S. Navy on Christmas day. [6]
***
References
[1] Zerohedge
[2] Zerohedge
[3] Zerohedge
[4] Zerohedge
[5] Chronicle