President Trump Rejects Ridiculous UniParty DACA Deal…
The "bipartisan" UniParty has reached an agreement "in principle" on immigration demands.  The deal involved $2.7 billion for border security – matching within that a Trump budget request for $1.6 billion to go toward his promised border wall – along with $1.1 billion for security technology and infrastructure. [1]
"We have been working for four months and have reached an agreement in principle that addresses border security, the diversity visa lottery, chain migration/family reunification and the Dream Act – the areas outlined by the president," the members of the group said in a joint statement. – Sens. Michael Bennet, Dem-Colo.; Dick Durbin, Dem-Ill.; Jeff Flake, Rep-Ariz.; Cory Gardner, Rep-Colo.; Lindsey Graham, Rep-S.C.; and Bob Menendez, Dem-N.J. [2]
The Democrats also have a plan to get Congress to pass amnesty. They plan to hold the federal budget hostage until weak spun Republicans buckle and give it all up.  [3]
Meanwhile earlier this week, a San Francisco-based federal judge temporarily blocked the Trump administration's move to rescind the program by issuing a nationwide injunction that blocks deportation  for hundreds of thousands of young immigrants brought to the U.S. illegally as children. In a ruling that could further complicate an already complex negotiation, lawmakers face an additional deadline of January 19 for striking a spending deal and avoiding a government shutdown.  There may be a silver lining to this blocking in that it potentially removes the false urgency that had been attached to awarding amnesty to the DACA illegals by the Democrats and some sellout Republicans. [4]
[5]
Thankfully, President Trump rejected their "proposal"; and as a direct result the UniParty immediately pounds the Alinsky Drums: "Racist, Racist, Racist":  [6]
[7]
Securing America's Future Act of 2018 – Immigration Bill introduced by GOP Bob Goodlatte 1/10/18
https://judiciary.house.gov/wp-content/uploads/2018/01/011018-Securing-Americas-Future-Act-Final.pdf
Paul Ryan Says He Will Not Attach DACA to Stop-Gap Spending Bill: 'That's Just Not Good Government'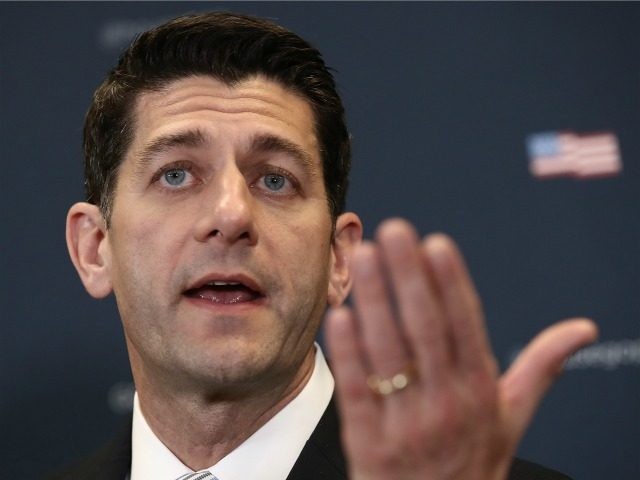 House Speaker Paul Ryan revealed at a University of Wisconsin-Milwaukee event on Friday he does not plan to attach a Deferred Action for Childhood Arrivals (DACA) illegal alien fix to a government spending bill, stating, "That's just not good government."
Ryan added, "Ultimately, I think we should go to a merit-based immigration system." [8]
Key facts about unauthorized immigrants enrolled in DACA
Three-quarters of DACA recipients live in 20 U.S. metro areas. With 89,900 DACA recipients, the Los Angeles-Long Beach-Anaheim metropolitan area had the largest number of active enrollees as of Sept. 4. That was nearly twice as many enrollees as the next largest metro area, New York-Newark-Jersey City (47,200). Other top metro areas include Dallas-Fort Worth-Arlington (36,700), Houston-The Woodlands-Sugar Land (35,800) and Chicago-Naperville-Elgin (34,100). The top metro areas of current DACA recipients are similar to those of the nation's unauthorized immigrant population as a whole.
Nearly half (45%) of current DACA recipients live in just two states: California (29%) and Texas (16%). Illinois (5%), New York (5%), Florida (4%) and Arizona (4%) also have significant populations of active DACA recipients. [9]
Over 100 CEOs of major U.S. companies demand amnesty for 'dreamers'
Ginni Rometty, Tim Cook, Mark Zuckerberg, Jeff Bezos and other tech CEOs warn of 'significant costs' and 'disruptions' if Congress doesn't save the Dreamers by January 19, 2018 [10]
This does nothing but encourages people to migrate illegally into the United States of America. DACA dreamers have money coming in from all angles. Chief Executive Officers are donating millions, aside from community fundraisers, to support the children of illegal immigrants by giving them opportunities such as free college and paid travel for internships. Those people are supporting illegal immigration and financing a war against American citizens. Apparently, Jeff Bezos alone is donating 33 million to 1,000 illegal immigrants to pay for their scholarships. Illegal immigration works against citizens of the United States and the future of American Children. The majority of DACA Dreamers are in their 20's. They are not even children…!
[11]
Leaked Memo: DACA Amnesty Is 'Critical Component of Democratic Party's Future Electoral Success'
[12]
***************
Interesting Comments found in various sourced articles:
Joe Legal vs Jose Illegal
Joe Legal works in construction, has a Social Security Number and makes $25.00 per hour with taxes deducted.
Jose Illegal also works in construction, has NO Social Security Number, and gets paid $15.00 cash "under the table".
Ready? Now pay attention….
Joe Legal: $25.00 per hour x 40 hours = $1000.00 per week, or $52,000.00 per year. Now take 30% away for state and federal tax; Joe Legal now has $31,231.00.
Jose Illegal: $15.00 per hour x 40 hours = $600.00 per week, or $31,200.00 per year. Jose Illegal pays no taxes. Jose Illegal now has $31,200.00.
Joe Legal pays medical and dental insurance with limited coverage for his family at $600.00 per month, or $7,200.00 per year. Joe Legal now has $24,031.00.
Jose Illegal has full medical and dental coverage through the state and local clinics and emergency hospitals at a cost of $0.00 per year. Jose Illegal still has $31,200.00.
Joe Legal makes too much money and is not eligible for food stamps or welfare. Joe Legal pays $500.00 per month for food, or $6,000.00 per year. Joe Legal now has $18,031.00.
Jose Illegal has no documented income and is eligible for food stamps, WIC and welfare. Jose Illegal still has $31,200.00.
Joe Legal pays rent of $1,200.00 per month, or $14,400.00 per year. Joe Legal now has 9,631 ..00.
Jose Illegal receives a $500.00 per month Federal Rent Subsidy. Jose Illegal pays out that $500.00 per month, or $6,000.00 per year. Jose Illegal still has $ 31,200.00.
Joe Legal pays $200.00 per month, or $2,400.00 for car insurance. Some of that is uninsured motorist insurance. Joe Legal now has $7,231.00.
Jose Illegal says, "We don't need no stinkin' insurance!" and still has $31,200.00.
Joe Legal has to make his $7,231.00 stretch to pay utilities, gasoline, etc..
Jose Illegal has to make his $31,200.00 stretch to pay utilities, gasoline, and what he sends out of the country every month..
Joe Legal now works overtime on Saturdays or gets a part time job after work.
Jose Illegal has nights and weekends off to enjoy with his family.
Joe Legal's and Jose Illegal's children both attend the same elementary school.
Joe Legal pays for his children's lunches, while
Jose Illegal's children get a government sponsored lunch.
Jose Illegal's children have an after school ESL program.
Joe Legal's children go home.
Now, when they reach college age,
Joe Legal's kids may not get into a State School and may not qualify for scholarships, grants or other tuition help, even though Joe has been paying for State Schools through his taxes, while
Jose Illegal's kids "go to the head of the class" because they are a minority.
Joe Legal and Jose Illegal both enjoy the same police and fire services, but Joe paid for them and Jose did not pay.
Do you get it, now?
***************
Solution for DACA:
*Mandatory Registration and Fingerprinting, if you commit any crime after registration, Deportation
*NO WELFARE
*NO FREE EDUCATION
*REQUIRED TO SPEAK ENGLISH
*NO VOTING RIGHTS FOR 10 YEARS
*GET IN THE LINE
*NO MORE ANCHOR BABIES
***************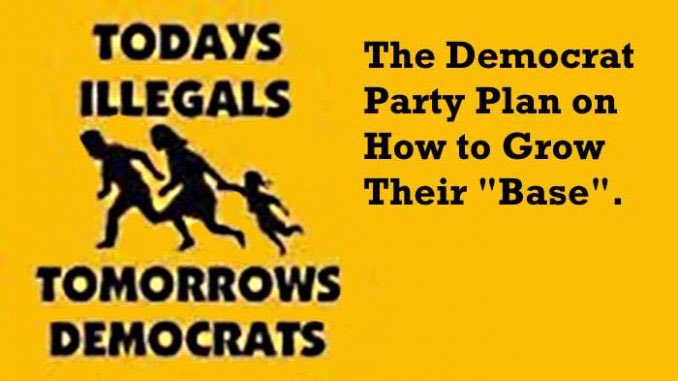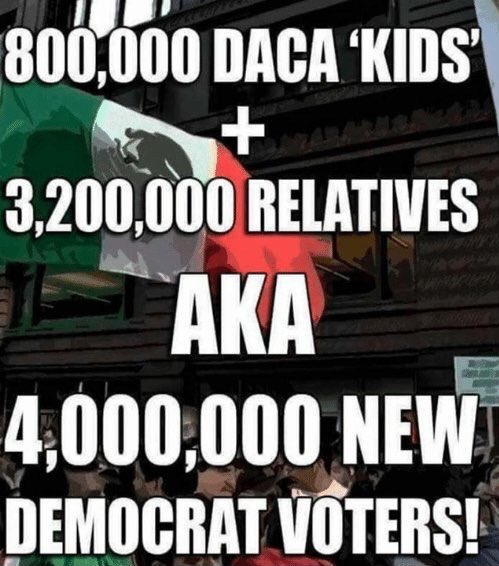 AMERICAN BORN CITIZENS also have dreams – ILLEGAL is ILLEGAL – What about all the naturalized citizens who immigrated legally and those in the process – NO ONE likes people who CUT IN LINE!!!!!!!
***************
SOURCES:
[2] US News
[3] Lidblog
[4] Rick Wells Blog
[5] Twitter 1
[7] Twitter 2
[8] Breitbart
[9] Pew Research
[10]  Business Insider
[11] Dennis Michael Lynch
[12] Scribd