While much attention has been focused on the Hillary Clinton's (and the Clinton Foundation) Uranium One scandal, there has been a general lack of awareness in regards to Senator McCain's not-for-profit — The McCain Institute for International Leadership (further referenced as "The McCain Institute").  So I did.
By: Bo Deen
As a general disclosure, let's define a few things:
This is only a "shallow dive" into this topic – it is not a complete view
This demonstrates cause for concern – these shouldn't be ignored
This effort is necessary – MSM spends very little time on this subject
We need to avoid the tin foil, but we deserve some answers
The McCain Institute: A Cause for Concern
Formed in 2012, The McCain Institute (Source 1) is part of Arizona State University and has the stated mission to "advance leadership based on security, economic opportunity, freedom, and human dignity, in the United States and around the world."  The organization was funded (Source 2), at least in part, with nearly $9 million of money left over from Senator John McCain's 2008 Presidential run.  On the surface, The McCain Institute appears to be an organization that attracts a type of "who's who" of both private & public-sector individuals & organizations well suited for its stated mission.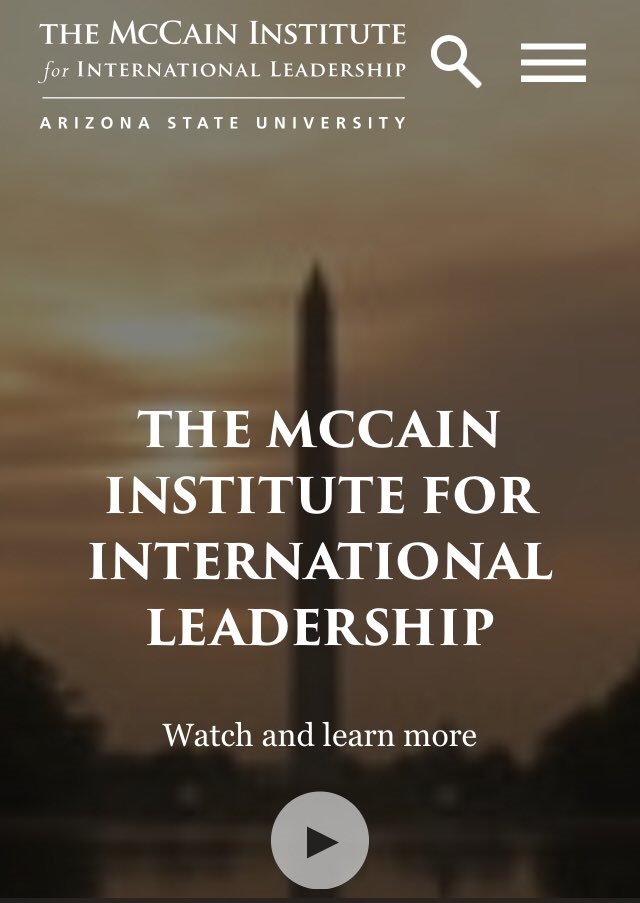 While I would never suggest that the institute as a whole, or its collective members & guests, have nefarious motives or shady dealings, it is impossible to erase history and facts are facts – there are serious warning signs associated with this organization!  And while these signs have been periodically reported, they are even more relevant today.  The list of financial donors is lengthy & diverse, but for now let's look at just two notable donors & their respective backgrounds. (Source 3)
Taneo – Founded by longtime Bill Clinton associate, Doug Band.  Recently newsworthy for setting up Bill Clinton's expensive speaking engagements & feud with Chelsea Clinton regarding intermingling of Clinton Foundation & her father's personal business affairs.  Interestingly, even if only through irony, Doug Band officially parted ways with The Clinton Foundation in 2012, the same year The McCain Institute was formed. (Source 4 & 5)
George Soros- Renowned billionaire investor, destroyer of banks & markets, financial backing to former President Obama & Hillary Clinton POTUS campaigns, financier of European migrant crisis & various "revolutions" throughout his lifetime.
Rothschilds- If unfamiliar with this family history then I suggest you come back to this topic when you have a lot of time – for now, understand that Lynn Forester de Rothschild is Chief Executive of "E.L. Rothschild LLC". 
Whoa!  To be clear, constant efforts should be made to avoid the paralysis of an "echo-chamber" – diversity of thought can have profound value within organizations – but, that can certainly be accomplished without accepting donations.  When I see financial & organizational "mixers" between neocon's, Marxists, crony capitalists & anyone named "Rothschild"… the sirens can become deafening.  I encourage you to conduct your own research – much of the info is in plain sight at https://www.mccaininstitute.org .
With the notorious Uranium One deal being a hot topic & obvious concerns of parallels with The Clinton Foundation noted, one may be curious to dig deeper:  Does Senator McCain have similar baggage?  After all, Senator McCain has suspicious links to the infamous "Steele Dossier" that was used to hurt POTUS Trump politically (more on that later in article).
Mining in Arizona:  Big Business
In John McCain's official capacity as Senator from Arizona, mining (in general) is a necessary & legitimate concern for his constituents, as Arizona produces 2/3 of US Copper and when compared internationally ranks #6 in the word for copper production.  Additional materials mined include: gold, silver, lead, uranium & many others. For additional context, in 2013 Arizona was ranked by executives as #20 (of 115 jurisdictions worldwide) in regards to mining opportunities. (Source 6)
With this in mind, it is easy to see potential conflicts of interest when considering his official capacities & relationships within The McCain Institute.  For instance, Freeport-McMoRan (Freeport) is listed as a major donor of The McCain Institute (defined as contributing $100k or more); this company, based in Phoenix, is the #1 producer of molybdenum and #2 producer of copper in the world.  When taken at face value, there is nothing to be concerned with, as (in regards to his participation with The McCain Institute) Senator McCain has said himself, "I'm Proud that the institute is named after me, but I have nothing to do with it."
In today's climate I take NOTHING at face value!
We'll let the facts speak for themselves:
In 1967 Freeport entered into a contract with Indonesian government to develop the "Ertsberg Deposit" – geology estimates (at the time) determined that this was the largest above ground copper deposit ever discovered.Gold was also discovered & mined.
Grasberg Mine became the second largest copper mine and largest gold mine – IN THE WORLD
In 2001-2014 mining operations entered into SIGNIFICANT disruptions, including worker strikes, attacks on infrastructure and people, creating havoc on operations
In 2014 Indonesia went through political changes resulting in "resource nationalism"; in 2016 headlines read "Freeport-McMoRan Is in Trouble in Indonesia" (Investopedia)
October 17 2017 it was announced that a general agreement has been made to restructure & continue mining operations in Indonesia
The Sedona Forum:  Where Interests Meet
The Sedona Forum is a "closed door" annual event held by The McCain Institute on an annual basis – attendance is by invite only.  The McCain Instituted publishes the agenda & attendee list on it's website, www.thesedonaforum.com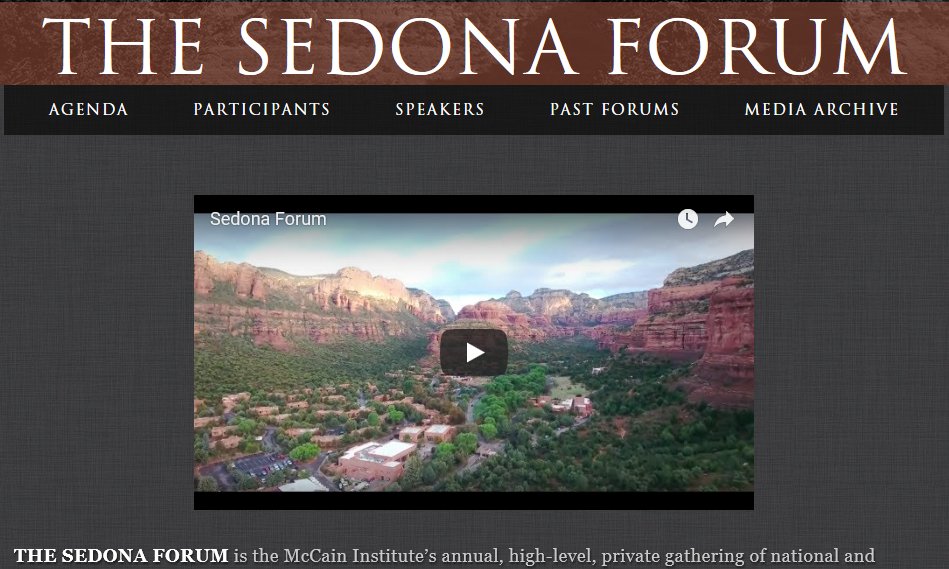 n regards to the Freeport-McMoRan timeline above, The Sedona Forum surely appears to be an interesting place for interests to "mix".  As one of the large donors to The McCain Institute, it is expected that Freeport would be included in the forum – in April 2014 Freeport CEO Richard Adkerson was a guest speaker in the forum entitled, "A Conversation on Leadership". 
It is also notable, perhaps, that Budi Bowoleksono, was in attendance at the conference – he was Ministry of Foreign Affairs of the Republic of Indonesia.  A month later, Mr. Bowoleksono became Indonesian Ambassador to United States.  He also attended in 2015 & 2016, as the attendance list shows on the Sedona Forum website.
In December 2016, Freeport's stock (FCX) had skidded to a low approaching $4.00/share
In July 2017 it was announced FCX would sell its Indonesian subsidiary to the Government of Indonesia, the process of nationalization of natural resources was under way & FCX stock price bounced around $3/share & leveled out in the mid $14 range, until
On December 7, 2017 it was announced that a deal was official, that the Indonesian Government would purchase a stake in the Grasberg mine from Rio Tinto, a UK based company that often intermingles with FCX – Indonesia now owned a 51% stake in its premier mine and FCX share jumped to a 52-week High of $20.07 a share in less than 30 days.
This is hardly the only interesting connection & timeline of The Sedona Forum (2014), or the 2015 & 2016 forums – it is just a small glimpse of where private & public interests meet.
Uranium:  An interesting thing happened on the way to the forum!
For years Senator McCain has worked hard for Arizona's mining interests, but were his efforts truly in the interests of The State?  In 2011 Senator McCain submitted
S. 1690, a bill that sought to open up approximately 1 million acres of mining on Federal lands in Arizona – land that, according to the US Geological Society, was estimated to hold 375 million pounds of Uranium Ore.  The effort stalled.
But in December 2014, Senator McCain stuck a "land swap" in Defense Policy Bill, which opened up The Resolution Copper Mine in SE Arizona to Rio Tinto (55% owner) & BHP Billiton (45%) – the copper mine is estimated to peak its production to 1 Billion pounds of copper per year. Rio Tinto, as you can recall, was involved in the sale of the mine to Indonesia & has various interests with Freeport-McMoRan. (Source 8)
The process is not without known concerns – China owned nearly 10% of Rio Tinto at the time and there were various environmental/human concerns with the project.  The mine also has a history of associated corruption, as former Arizona Rep Rick Renzi was convicted of conspiracy, racketeering (and others) in connection to using the mine for personal gain when it was purchased in mid-2000's. (Source 8)
But, perhaps the most perplexing concern is this – Rio Tinto is the majority owner of Rossing Mine, a massive Uranium operation in Namibia, and 15% of that mine is own by Iran!! The Rossing Mine has a history of its own that reads more like a Hollywood script than it reads like "Geology" – it is one of the longest running & largest open pit uranium mines in the world. (Source 9)
The concern is further complicated by the timeline:  At the time the "land swap" occurred, then President Obama was well under way with a Nuclear Deal with Iran, a deal that was signed in July 2015.  It should be noted that the Nuclear Deal allowed Iran to reengage as an active partner in the mine – both Iran & Rio Tinto have denied that the mine has supplied uranium to support Iran's nuclear weapons programs, but the mine has supplied China and has a significant history of lost/stolen uranium. (Source 10)
The Sedona Forum: More Relevant ties
–          The Pivotal Foundation donated at least $100k to The McCain Institute and is known to have donated at least $200k to National Iranian-American Council (NIAC).  The NIAC advocated heavily for the Iran Nuclear Deal.  It's founder, Francis Najafi, was in attendance in 2014
–          Senator Jeff Flake attended in 2016; he was a former lobbyist for Rossing, the Uranium mine owned by Rio Tinto & Iran
–          Hillary Clinton was in attendance in 2014
–          David Kramer attended in 2014; Sr. Fellow at McCain Institute, Former State Department employee, currently (reportedly) "attempted to avoid subpoena & later requested the deposition remained sealed for safety concerns," in a law suit involving "The Dossier"
–          Paul Singer is a major donor to McCain Institute & reportedly the original funder of "The Dossier"
–          Randy Scheunemann is owner of Orion Strategies & known previously for instigating tensions with Russia through work with Republic of Georgia and other former soviet bloc countries
If there is a fire burning at The Clinton Foundation, and there is, then it appears there is smoke billowing out of The McCain Institute!  Has our country become so numb to corruption that the mixing of all these interest in "closed door meetings" is ok?  Have the laws been written by the people who form these institutes & financed by the lobbyists that attend – do we clearly see what is happening and just accept it as "legal"?  Perhaps.
The evidence provided is verifiable; it is all in plain sight & media has spot covered it when it chooses to do so.  I'd suggest that we have become a bit numb, The Swamp has written laws to cover their rear… and our media fails to piece these together to form the real narrative – Senator John McCain has clear motive for his involvement in the "Steele Dossier" and his general disdain for President Trump, who is "Draining the Swamp".
This madness against President Trump has reached a critical stage – it's impossible to rewind the clock and it appears that it will be impossible to reach a conclusion other than someone(s) being guilty of sedition and/or treason.  That is, to say:  If President Trump and his team are not guilty, then the organization(s) of his accusers are.  And right now, I want to know more about Senator John McCain & The McCain Institute for International Leadership, because it smells very swampy.
 Note:  This is a repost with the following corrections
1. Removed Reference to "Uranium One"
2. Additional links added for sources
Sources
1.       https://en.wikipedia.org/wiki/McCain_Institute
2.       https://www.usatoday.com/story/news/politics/2014/03/28/john-mccain-institute-donors-arizona-state-university/6998737/
3.       https://dailycaller.com/2017/06/19/exclusive-soros-clinton-linked-teneo-among-donors-to-mccain-institute/
4.       https://wikileaks.org/podesta-emails/
5.       https://www.gop.com/leaked-band-email-chelsea-used-clinton-foundation-resources-for-her-wedding/
6.       https://blogs.nelson.wisc.edu/es112-311-2/mining/
7.       https://www.reuters.com/article/us-indonesia-freeport/indonesia-president-urges-action-on-freeport-mine-deal-idUSKBN1CB1KK
8.       https://www.huffingtonpost.com/2014/12/02/rio-tinto-iran_n_6255706.html
9.       https://en.wikipedia.org/wiki/R%C3%B6ssing_uranium_mine
10.     https://www.wise-uranium.org/umoproe.html