BREAKING : United States and United Arab Emirates disrupt large scale currency exchange network transferring millions of dollars to Iran's IRGC -Qods Force. Exchange Network CHART published by US Treasury.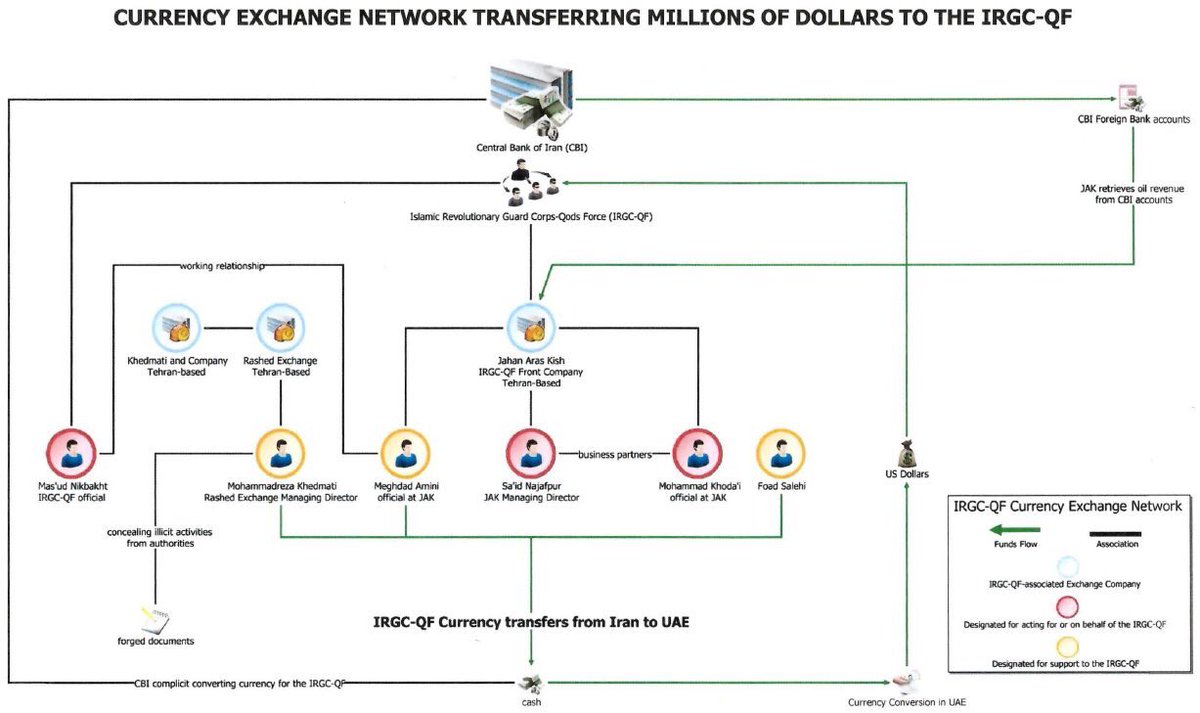 According to statement US Treasury: "Today the US and the UAE jointly took action to disrupt an extensive currency exchange network in Iran and the UAE that has procured and transferred millions in U.S. dollar-denominated bulk cash to Iran's IRGC-QF) to fund its malign activities and regional proxy groups." [1]
"Specifically, the U.S. Department of the Treasury's Office of Foreign Assets Control (OFAC) designated nine Iranian individuals and entities."
Iran's Central Bank was complicit in the IRGC-QF's scheme and actively supported this network's currency conversion and enabled its access to funds that it held in its foreign bank accounts. This network of exchangers and couriers has converted hundreds of millions of dollars.
"The Iranian regime and its Central Bank have abused access to entities in the UAE to acquire U.S. dollars to fund the IRGC-QF's malign activities, including to fund and arm its regional proxy groups, by concealing the purpose for which the U.S. dollars were acquired. "
said the US Treasury Secretary Steven T. Mnuchin.
"As a reminder, due to President Trump's May 8, 2018 decision to cease the United States' participation in the JCPOA, as of August 7, 2018, the US Government will re-impose sanctions on the purchase or acquisition of US dollar banknotes by the Government of Iran. "
BREAKING : following US Treasury designations, the UAE designates 9 Iranian entities and individuals on its list of terror organisations.per WAM News – the UAE's state news agency is reporting
إدراج تسعة أفراد وكيانات بقائمة الإمارات لداعمي الإرهاب أبوظبي في 10 مايو/ وام / أصدر مجلس الوزراء القرار الوزاري رقم 24 لسنة 2018 الذي تضمن إدراج تسعة كيانات وأفراد إيرانيين للقائمة المعتمدة في دولة الإمارات العربية المتحدة المدرج عليها الأشخاص والهي [2]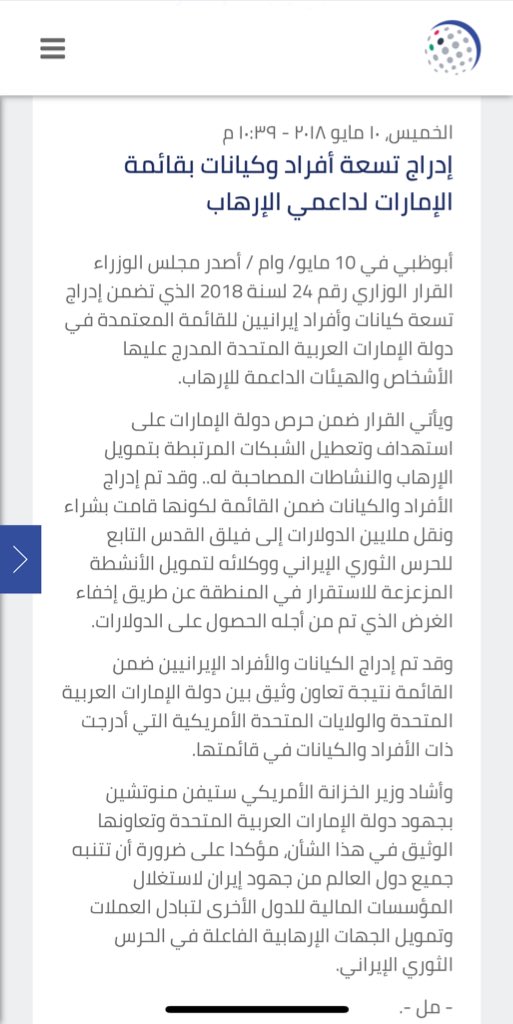 English version:
The US Treasury announces new sanctions against six individuals and three companies. Source – [3]
"The move comes in collaboration with the US. The US Treasury Department thanks UAE for its close collaboration on this matter." @WAMNEWS_ENG reports. [2]
UAE adds Iranians to list of terror supporters | Gulf News [4]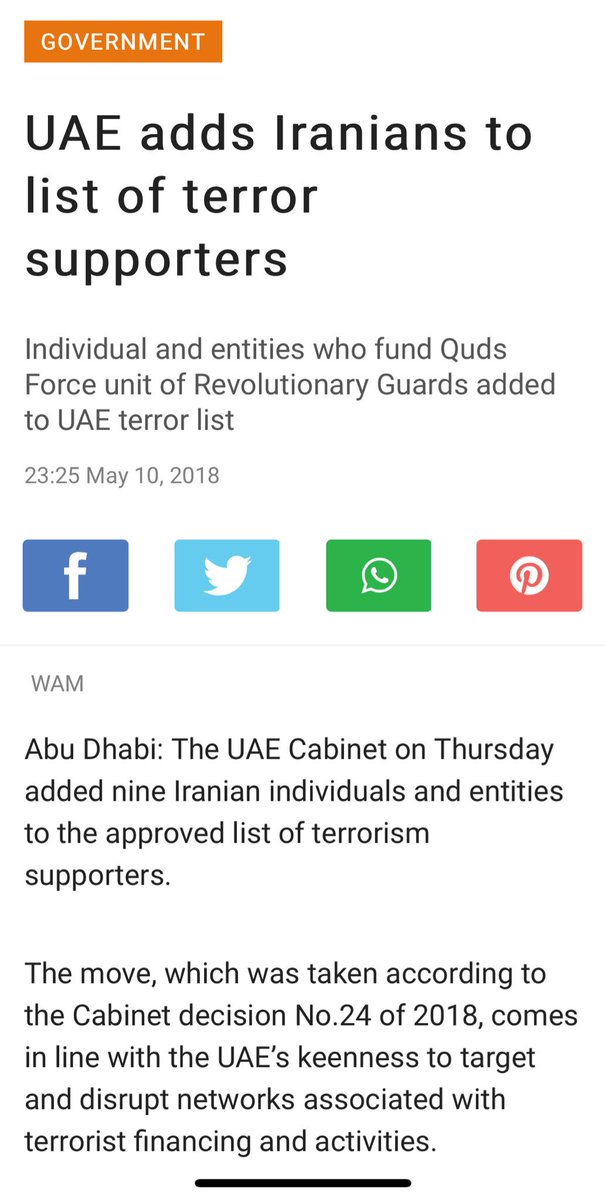 The UAE Cabinet on Thursday added nine Iranian individuals and entities to the approved list of terrorism supporters.
Here are the names of 9 entities/individuals designated by the US Treasury
1- Mas'ud Nikbakht
2- Sa'id Najafpur
3- Mohammad Hasan Khoda'i
4- Mohammadreza Khedmati Valadzaghard
5- Meghdad Amini
6- Foad Salehi
7- Jahan Aras Kish
8- Rashed Exchange
9- Khedmati & Company Joint Partnership
Iran caught smuggling money to buy votes for their stooge and militiaman Hadi Al Ameri for the upcoming elections. Note that the elections are 5/12/18).
Boxes have a few political flyers covering bundles of US $100 currency.
References:
[1] US Treasury
[2] WAM News
[3] US Treasury
[4] Gulf News