Flynn case continued – Mueller needs more time. Now until 8/24/2018.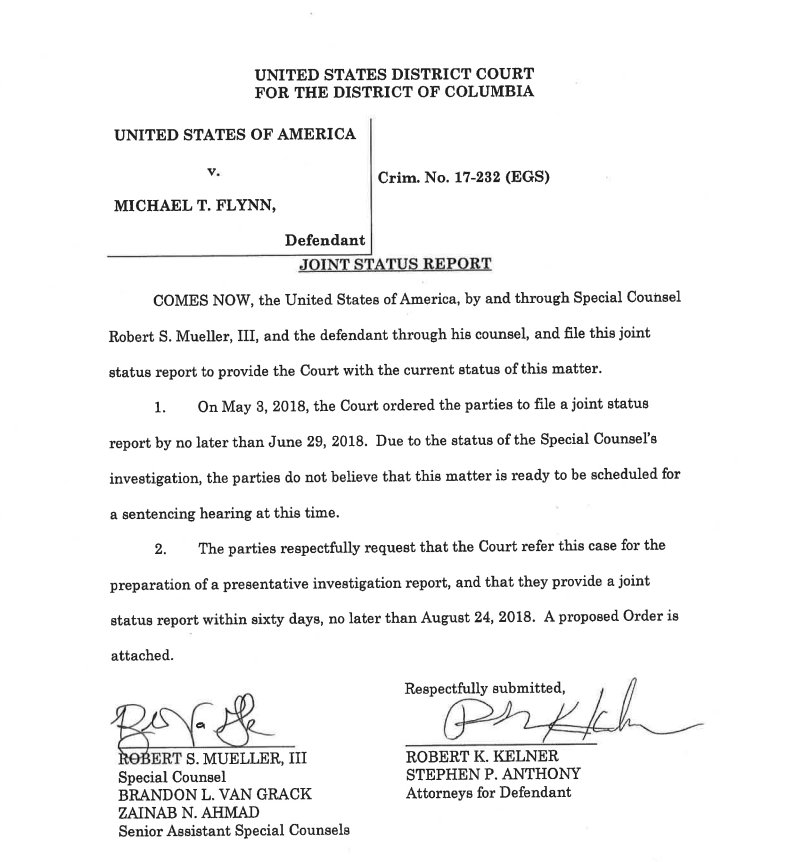 A few things:
1)
"The parties do not believe that this matter is ready to be scheduled for a sentencing hearing at this time."Mueller is gonna be pushing 1 year to get a sentencing hearing on a simple perjury plea.
2) "The parties respectfully request that the Court refer this case for the preparation of a presentative (sp) investigation report."
The Pre-sentence Investigation Report will, in all likelihood, not address any wrongdoing by the DOJ/FBI in the lead-up to the Flynn plea.
10% chance? I wasn't generous enough.
Judge orders the parties, by noon on July 2, to explain why the Court should depart from its usual practice of getting all the sentencing issues/dates done at the same time.
Love it.
Just filed in the Flynn case: the Special Counsel offers its explanation. The parties seek to initiate the process of a sentencing report so that the sentencing could be put on a "more expedited schedule at such time as the matter becomes ready for sentencing." It's likely, but not guaranteed, that this filing will satisfy Judge Sullivan's concerns about departing from the Court's "usual practice of ordering a pre-sentence report, scheduling a sentencing date, and establishing a sentencing briefing schedule at the same time."
This is big: in response to today's motion, the Court has, on its own, set the matter for a status hearing. General Flynn will be in attendance. July 10. Mark your calendars.
Likely subject matter: Why did the Special Counsel secure a plea deal in December of 2017 when it wouldn't be ready for sentencing in August of 2018?
Reference: