Very interesting article about Canada's Foreign Minister Chrystia Freeland.
By:
BenTallmadge ❌ Shadowbanned
@BenKTallmadge  [1]
Ukraine and the Toronto Globe And Mail Expose- Soros is a "Close Friend"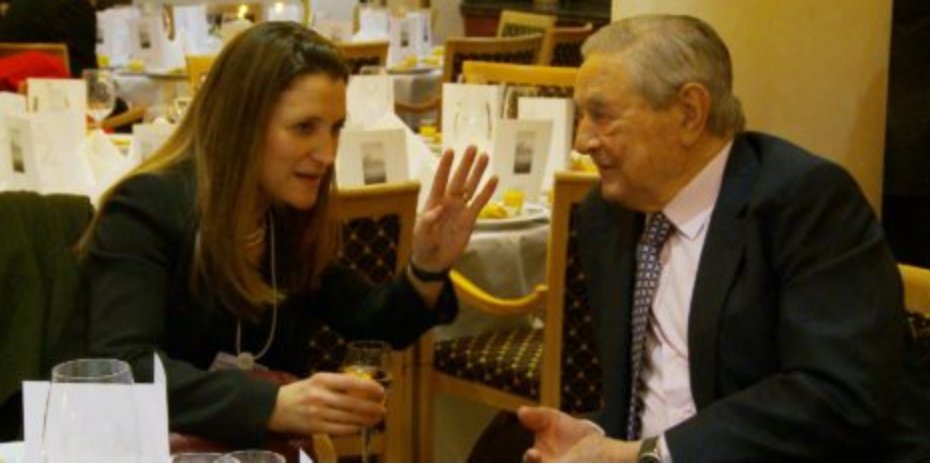 Canadian Foreign Minister Chrystia Freeland: Ukraine and the Toronto Globe & Mail exposé – Soros is a "close friend" — Sott.net A Toronto newspaper has revealed that Canada's leading Russia hater, Foreign Minister Chrystia Freeland, had a deal with George Soros (lead image) to write his biography after she had lost her journal. [2]
Globe & Mail reported, before she decided to run for parliament, Freeland had a "Deal" for a sort of authorized biography of Soros. Soros' spokesman refused to clarify the terms of this deal or the amount of compensation. In her 1st filing to the ethics watchdogs in May 1, 2014, there's no mention of Soros, but there is "income received under a book collaboration with an individual." In her parliamentary filing on income and assets Freeland also mentions "speaking fees and honoraria" she received for "10 Annual Yalta Meeting, Yalta, Ukraine." according to Globe and Mail, Ukraine Oligarch Victor Pinchuk's foundation paid her to attend the Yalta European Strategy (YES).
Others on the tab paid by Pinchuk were Bill and Hillary Clinton, and Tony Blair. YES is an expensive lobbying effort to drive Ukrainian membership of EU and combat Russian alternatives. This is the interesting part:
Freeland won the Liberal nomination on Sept 15,2013,then was elected to the parliament in the Nov 25, 2013 by-election. She was appointed to the cabinet of Canada as Min. of International Trade On Nov4,2015. After the Oct 19 Federal Election.
Ukrainian Oligarch Victor Pinchuk, who donated $29M to Clinton Foundation demanded meeting with Bill Clinton to discuss Maidan Failure. Wikileaks latest dump shows Ukraine Oligarch involved in pay-to-play exchange with Clinton Foundation.
Thread of EuroMaidan, how Obama's Deep state plotted with Ukraine's Neo-Nazi to bring down its former President Viktor Yanukovitch:
Canadian Foreign Minister Scapegoats Russian Hackers for Exposing Nazi Grandfather.
Chrystia Freeland's grandfather was indeed a Nazi collaborator, so much for Russian disinformation.
Chrystia Freeland's granddad was indeed a Nazi collaborator – so much for Russian disinformation The news conference on Monday by Foreign Affairs Minister Chrystia Freeland was interesting not for the announcement that Canada was extending its training mission to Ukraine but for the questions an… [5]
During the Nazi occupation of Ukraine,Chrystia Freeland's granddad Michael Chomiak was the editor of Krakivski Visti, a publication like a number of others, had been seized by the Nazis from their Jewish owners and then operated as a propaganda outlet. Here is what the Los Angels Holocaust Mueseum has to say about Krakivski Visti:
References: